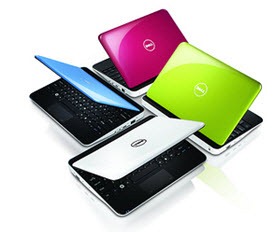 Intel formally announced its new line of Atom N450 processors for netbooks, which will make the teensy computers powerful enough to be useful. In late January, Dell will be shipping the Inspiron Mini 10 with the new processors.
The features are pretty typical: 10-inch screens running at 1024×600 or 1366×768 resolution; 1Gb of memory (expandable, I hope); 160Gb or 250Gb hard drive; 3 cell or 6 cell battery; built-in wireless and optional built-in mobile broadband for data over a cell phone carrier's network. The lightest ones will be under three pounds, although it will edge up a bit with the bigger battery; the 6 cell battery delivers more than nine hours of continuous computing, which is a pretty compelling reason to step up to it.
The cheapest Inspiron Mini 10 will be $299 but you'll pay more to step up to Windows 7 plus, perhaps, the bigger battery or more memory. My guess is that the price for the one you want will be in the $450-$600 range, without Microsoft Office.
There will be no shortage of netbooks next year and I still think the subsidized deals from the cell phone carriers may wind up being hard to beat. (Here's my summary from last week of why you might want a netbook.) Still, the pictures and specs on this Dell make a pretty good impression, and the colors are pretty, eh?