LogMeIn has moved far ahead of its competitors for working with computers remotely. It introduced major changes to its product lineup a couple of days before Christmas – not a good time to get much attention but an appropriate time to deliver lovely presents, since the changes include new features that will be useful for many of you.
Let's start with the basics.
---
COMPUTERS

LogMeIn provides a small bit of software that installs on your computer at home or the office. It's tied to a LogMeIn account – an email address and a password. The basic program is free for connecting from one computer to another computer.
When you go to www.logmein.com from a different computer, you can log into the home or work computer and control it remotely as if you're sitting at it. Really, it's as simple as that. LogMeIn has done more than anyone else to make the controls easy to figure out and the response time for screens to change or menus to appear is as fast as possible. If both ends have fast Internet connections, it's essentially seamless. When you run full-screen, it is very difficult to tell the difference between the local and remote computers.
The service supports both Macs and PCs at both ends. You can sit at a Mac at home and connect to a PC at work and run the Windows programs just as if you were at your work desk – or vice versa.
A frequently asked question: the remote computer has to be turned on. If it's asleep or turned off, you can't connect to it.
---
iPADS
The big new announcement: LogMeIn is now free for iPads. The iPad app not only provides the same quick screen response, but also has controls optimized for using your fingers and viewing a big monitor on a ten inch screen. There are gestures to learn and you'll need a few minutes to discover which controls are under which icon, but the design is simple and elegant and as intuitive as possible.
The door is open for the iPad to be a true productivity device for people doing business. Working with an onscreen keyboard will never be the same as using a laptop computer but that is frequently outweighed by the portability and unobtrusiveness of an iPad.
You should know that there is also a free LogMeIn app for iPhones. But really, can you imagine trying to control your computer monitor on a 3.5 inch screen? Life is too short to spend that much time moving around a zoomed window trying to find your place.
---
LOGMEIN PRO

The free iPad app is a big deal, but LogMeIn has some other tricks up its sleeves.
A subscription to LogMeIn Pro has always been worth considering. It adds two huge features to connections made from one computer to another: the ability to print from the remote computer to a local printer by your side, and a file manager for transferring files back and forth between computers.
It's even better now.
Two features have been added to LogMeIn Pro subscriptions: Cloud Bank (only for iPad users) and HD streaming.
LogMeIn Pro is licensed for the computer that will be controlled remotely. If you purchase it while you're sitting at that computer, it costs $69.95/year. At the moment, if you purchase it from your iPad, it's $39.95/year. The subscription appears to be identical, since it's attached to the computer, not the iPad. There is some language about an "introductory price" when you buy it from an iPad, so think of it as a sale aimed at iPad owners.
Let's take the new features separately.
---
CLOUD BANK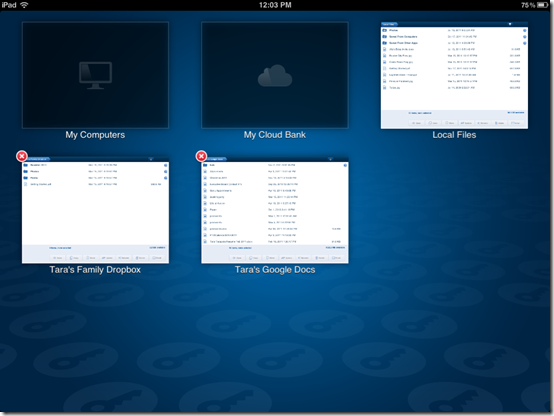 Cloud Bank is a new feature for the LogMeIn iPad app. Cloud Bank displays a file browser for files stored in Dropbox or Google Docs as well as your computer(s) and the iPad itself, and allows you to copy or move files freely between any of them.
There are lots of ways to move things among devices. That's Dropbox's purpose in life, after all. Yet there is something very appealing about the way LogMeIn accomplishes that on the iPad. Choose files or folders from one source and click on a "Copy" button to put them on a kind of virtual clipboard. Switch to a destination (in Dropbox or on your office computer, say) and click on "Drop Here". LogMeIn does the work of figuring out how to get the files from place to place. I can imagine using an iPad to move files between an office computer and a home computer, just because this feature is easier to use than any other alternative.
---
LOGMEIN HD
Connections to a computer running LogMeIn Pro are now in HD. The company has improved its ability to transmit high-resolution screens, even when they are changing quickly. And that allows something that is brand new: You can stream audio and video in reasonably high quality from your remote computer using LogMeIn.
It's always been difficult to stream video from one place to another. The formats used for video are complex and frequently riddled with DRM to prevent them from being seen on multiple devices without the approval of the entertainment industry moguls who believe every viewing should involve money. Netflix provides a good iPad experience but a limited selection. iTunes video is expensive. More and more people are setting up audio and video libraries in their houses and streaming them to their computers and TVs but it hasn't been easy to get access to that library while traveling.
LogMeIn HD extends audio and video streaming to remote locations. All the work is done by the onsite computer; LogMeIn is just transferring the video from the home computer screen to the remote location. At the same time it redirects the audio from the home speakers to the iPad or the remote computer.
It works better than it has any right to. You'll need a very healthy Internet connection at both ends for the video to arrive without stuttering or dropouts. It won't help you watch video at a hotel with an overloaded wireless network. (They all are. Hotels have been completely overwhelmed by people trying to watch video on iPads in the evening.) There is no caching or buffering involved so if the connection doesn't work well at first, it won't work well five minutes later either.
But under the right conditions it's rather magical to use the iPad and bring up J River Media Center on my home computer and choose from anything in my home library, instead of being limited to the handful of movies that I remembered to load on the iPad and laptop.
At the moment, LogMeIn Pro HD only works on PCs and iOS devices. The company promises Mac support early in 2012.
---
LOGMEIN IGNITION
LogMeIn has a separate overlapping app for iPads and iPhones named LogMeIn Ignition. Now that the company has decided to release a free app, it's not strictly necessary but a lot of people downloaded it so the company has carved out a separate niche for it.
You can still purchase LogMeIn Ignition for $99.95. For that price, you will get all the LogMeIn Pro features on your iPad for any computer running LogMeIn, regardless of whether it's the free or Pro version. The same features will be available for anyone who purchased LogMeIn Ignition when it was only $29.99, a nice bonus for early LogMeIn loyalists.
If you're carrying an iPad around, this is a pretty compelling reason to set up LogMeIn on your home or office computer. And if you're a business person or lawyer mulling over the choice between a laptop or an iPad, the choice just got a little more interesting.