If the idea of following blogs in an RSS feed reader is tempting and your life is spent in Outlook, you might want to consider combining the two.
Outlook has an RSS reader built into it. Take a look – you've never noticed "RSS Feeds" down below "Outbox," have you? In fact, the first thing you saw when Outlook 2007 was started for the first time was a dialog box asking if you'd like to "combine and synchronize the lists of RSS feeds in Outlook and Internet Explorer." For most people, of course, this is gibberish. Really, what was in their heads when they made the decision to have that be everyone's first experience with the new version of Outlook?
The RSS reader in Outlook is not very compelling – but there's a simple trick that allows you to view Google Reader within Outlook. Essentially Outlook just displays the Google Reader web page when you click on "RSS Feeds."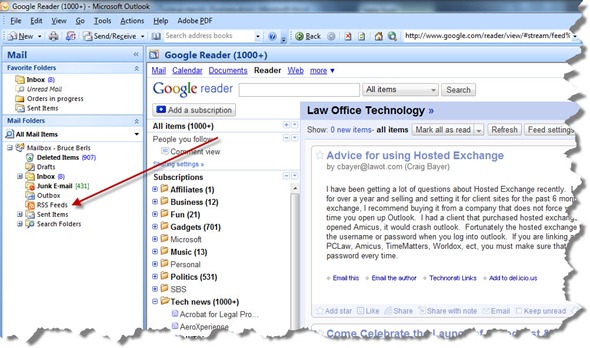 The details are here. Right-click on "RSS Feeds" and click on Properties.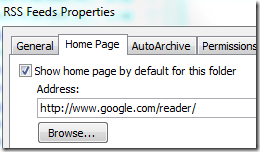 On the Home Page tab, choose to Show home page by default for this folder and change the address to: http://www.Google.com/reader/ 
Voila!  Google Reader will open when you click on "RSS Feeds" in Outlook.