There are an overwhelming number of new computers on the market! It will be impossible to stay up to date on the brands and models – and almost impossible to get hands-on experience with more than a small fraction of what's out there.
Click through to this article and take a look at some (but not all) of the new computers introduced by manufacturers on the day that Windows 7 was launched.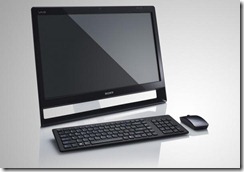 Random example – the first one on the list: Sony's Vaio L is an all-in-one with a 24" touchscreen. You're looking at the whole thing! There's a computer in that thin monitor, with a BluRay disc drive that comes popping out the side. It would be possible to run it without much more than a power cable: it has built-in 802.11 wireless, a built-in webcam, an optional built-in TV tuner, plus the wireless controller for the keyboard and mouse.
It's one of six all-in-ones highlighted in the Engadget article, and that's only a few of the all-in-ones that have hit the market or that will be released shortly.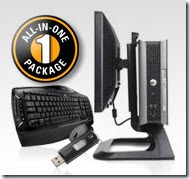 Incidentally, if you're short on space but want something that isn't quite as cutting edge, take a look on the right at what Dell can put together for the smallest Optiplex 760 – a monitor stand that holds the computer out of sight behind the screen. It's kludgy but kind of cute, eh?
Looking for a notebook? There are twelve listed in the Engadget article, plus seven more netbooks. Every single one has something to recommend it and none of them have any obvious problems; in fact, they all look pretty darned good. Remember, this is just a sample of what was announced on October 22, and it doesn't include Dell or some of the other major manufacturers.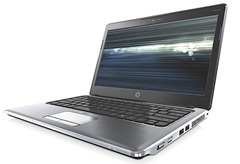 There will be a lot of notebooks in the $500-700 range, like the HP Pavilion dm3 on the left. They'll be thin and light, they'll be slightly smaller than you expect, and the battery life will be spectacular. I'll write up some more details about shopping but for the moment make a mental note that you'll have to buy Microsoft Office 2007 separately (about $180 if you want the version with Outlook), and most of the thin notebooks omit the DVD drive. If you're young and technically agile you can live without it, but everyone else will wind up buying a USB DVD drive for a hundred bucks or so.
It's a lot to absorb but everything makes a good impression so far.
Microsoft has created a site to help people shopping for notebook computers. Windows PC Scout has a pool of "recommended laptops" and will lead you through some questions to narrow down the list. I assume it's an advertising site and the manufacturers have paid to be represented but – and I mean this in the nicest possible way – who cares? Anything that helps cut down the overwhelming number of choices is helpful.
Happy shopping!