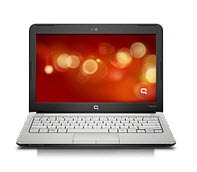 Don't buy a netbook yet.
It's taking longer than I expected for the next generation of netbooks to become available. There's no shortage of the very small devices with 10" screens on the market but almost all of them are still slow and underpowered. AT&T just announced two new models that you'll be able to buy at a discounted price along with a two-year data plan (the Samsung Go and Acer Aspire One); they're perfectly nice but next year's models may be even better choices.
One bit of gossip suggests that Intel's next generation of netbook processors will be announced in December and available early in 2010. The "Pine Trail" platform will reportedly be a big step up from the Atom processors used in most notebooks now.
Meanwhile Nvidia's Ion chipset is turning up on scattered netbooks, like Verizon's subsidized HP Mini 311, which looks quite nice but would be even better matched with the next generation processor. Unfortunately, Nvidia and Intel are feuding pretty viciously so there's no certainty about whether that pairing will happen any time soon. (Not only are lawsuits flying, Nvidia took an even more drastic step by setting up a web site, Intel's Insides, with a gallery of cartoons mocking Intel. The nerve!)
Intel also hasn't quite worked the kinks out of its solid-state drives that may replace spinning hard drives in many portable computers. Capacity has to go up, price has to come down, but mostly Intel has to be reasonably sure that there won't be any more incidents like the bug a few weeks ago in a firmware update that caused Windows 7 64-bit computers to turn into bricks.
I still think netbooks will be popular choices for our second or third computers but I'm not suggesting that you jump into the market yet. The best is yet to come. If you're looking for a small laptop, focus on notebooks with 13"-14" screens and more capable processors. Personally, I like the looks of the Dell Studio 14z. (Here's a nice review.)