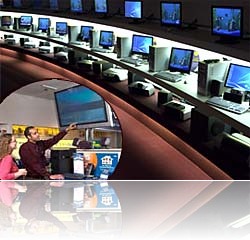 It is harder than ever to generalize about computer specifications. You have to consider whether you want something special – a touchscreen; a space-saving case or all-in-one computer; stylish colors; or something else that takes you to something different than a black box on the floor.
With that in mind, let's generalize.
Windows 7 and Vista have almost identical hardware requirements. Much of my advice has been unchanged for the last three years.
PROCESSOR  Get Intel Core 2 Duo processors or better, not a low end Celeron or an older "Pentium Dual Core" processor. If you want to get the next generation of processor, upgrade to a computer model with an Intel Core i5 or Core i7 processor.
MEMORY  Buy 4Gb-6Gb of RAM for a new computer. Get more if it's cheap, but it's not really necessary yet for most people.  Windows 7 can run adequately on 2Gb of RAM, but don't do that – in the long run you'll regret it.
VIDEO  I'm going to continue to look for video cards with 256Mb or more of RAM. The Intel graphics controller built into most motherboards is okay but step up to an ATI or Nvidia video card if you can. If you might want dual monitors, make sure you buy a computer with a video card that supports them.
HARD DRIVE  You'll get lots of storage space with any new computer, but the speed of the hard drive on a desktop should always be 7200RPM or above. If you see a cheap system with a 5400RPM hard drive, avoid it – if the manufacturer cut that corner, the whole system is probably cruddy. Fortunately, you'll almost never see that in a new desktop computer any more.
OPERATING SYSTEM Windows 7 Home Premium 64-bit is the best choice for most people. The only exception: businesses with a Windows server (including Microsoft Small Business Server) have to get Windows 7 Professional. In a pinch, a computer with Windows 7 Home Premium can be upgraded to Professional later for a hundred bucks or so.
SOFTWARE  If you're ordering from Dell, you can get Microsoft Office 2007 preinstalled at an attractive price. Other manufacturers almost never include MS Office. Make sure your budget is ready for the $150 Home and Student Edition of Office if the computer will be used at home (which does not include Outlook), or $300 and up for the standard versions.
There are 24,700 models of desktop computers to choose from. No, wait, it's Wednesday – make that 24,810. They're all just fine and almost all of them will have the specs listed above. For businesses, I plan to continue buying the Dell Optiplex 360 or 760/780. They're sturdy and businesslike and easy to work with, and they come with a minimum of crapware.
When you buy your new computer, think about buying these accessories at the same time:
Happy shopping!