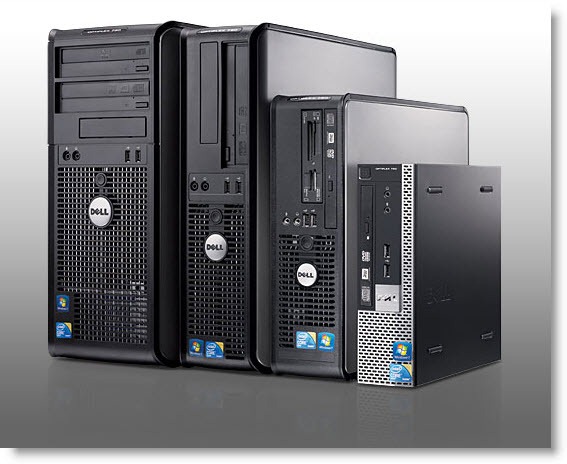 Dell's line of Optiplex desktops was updated a few days ago. It continues to be my first choice for small businesses. Like all the manufacturers, Dell changes its consumer lineup frequently – there are a dizzying array of Inspiron, Studio, and Studio XPS models, with constantly changing colors and specs. The Optiplex line has looked more or less the same for years; as much as possible the parts and configuration are standardized across the Optiplex line. They're sturdy and Dell ships them with virtually no useless extra programs.
The latest models are the Optiplex 380 and 780. The changes are mostly in processor and graphics choices, with a new USFF chassis added to the Optiplex 780 choices. (I'm glad you asked! It means "Ultra Small Form Factor." You were going to guess that, right? It's the dinky one on the right in the picture.)
The Optiplex 380 computers appear to start at $329, but that's just fooling, of course. If you follow my shopping instructions, your new business desktop will cost about a thousand dollars without a monitor but with Microsoft Office 2007. That's about the same amount that a business desktop has cost for years now – they get better but they haven't gotten much cheaper.
Let me know if you're ready to start shopping!