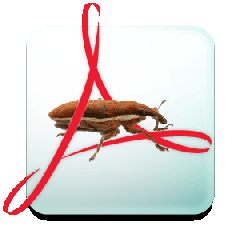 There's finally a solution to a bug that Adobe has allowed to stand unpatched for far too long. This only applies to a few of you but you'll be glad to see it if you've been one of the victims.
Background: if you use Outlook 2007 to open an e-mail message with a PDF attachment, you should be able to preview the attachment directly in the Reading pane. When you click on the attachment, you'll first see the dialog asking you to confirm that the attachment comes from a trustworthy source. (Leave the box checked for that warning – you don't want to automatically preview every PDF file that arrives in your mailbox.) The dialog looks like this: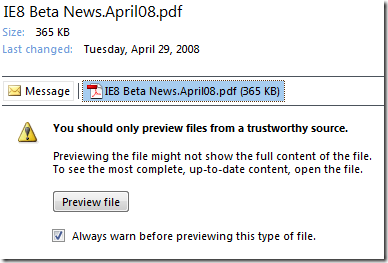 The bug: If you run a 64-bit version of Windows, you get an error message if you click the button to preview the PDF file in Outlook 2007 or Windows Explorer.
"This file cannot be previewed because of an error with the following previewer:
PDF Preview Handler for Vista
To open this file in its own program, double-click it."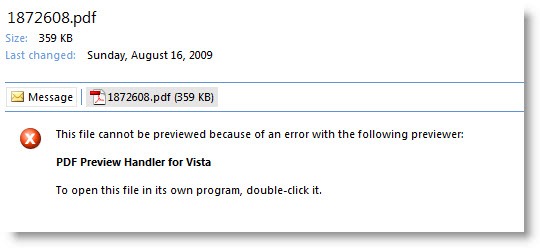 Reports of this error message first turned up on the Adobe forums in June 2007, and bloggers began drawing attention to it in May 2008. (I wrote about it in September 2009.) People have been complaining about it constantly but Adobe has done nothing to fix it. Sure, Adobe has had a busy year being the target of nonstop attacks by hackers but it should have put this nagging annoyance behind it a long time ago.
A smart guy named Leo Davidson discovered that the problem can be fixed by changing two registry entries. Nothing complicated, nothing that ought to delay Adobe from fixing it themselves. There are some deeper parts of Acrobat and Adobe Reader that need major overhauls for a 64-bit world but this particular fix can be done effectively without waiting for that overdue rewrite.
If you have this problem – a 64-bit version of Windows and an error message when you preview PDF attachments in Outlook – then go to this page. All technical details are disclosed so everything can be done manually if you're worried about running software from an unknown source, but for convenience most of you will want to download and run the automatic tool that checks some underlying details and then makes the needed registry fixes.
It worked for me. No restart required.
Until Adobe fixes the problem in an update for Acrobat and Adobe Reader, this fix may have to re-applied each time those programs are updated. Keep the page bookmarked in case the previewer breaks in the future.