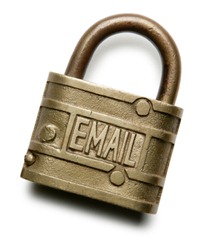 Previously:
Passwords: computer login
Each of your e-mail addresses has a separate password – a particularly important one to keep in your records. If you use Outlook or Windows Live Mail, the program may have memorized the password; I frequently talk to people who have no idea that their email account has a password because they are never prompted for it. Make sure you know the password for each e-mail address!
Most of you will have one of four different types of e-mail.
POP3 e-mail
Traditionally individuals and small businesses had POP3 e-mail accounts, most often the addresses assigned by the ISP. Yourname@attglobal.net, yourname@comcast.net, yourname@sonic.net – these are almost always POP3 mailboxes. The messages are held by the ISP until a mail program retrieves them by providing the e-mail address and password, which is usually put in during the initial setup of Outlook or Windows Live Mail. You'll see the asterisks for your password in those programs under Tools / E-mail accounts or Tools / Account Settings.
You'll need the password to set up the mail account on a new computer, or to use the ISP's half-baked webmail.
If you have a POP3 e-mail account, you need to know:
the login name (usually but not always the email address)
the password
the POP3 server (incoming mail)
the SMTP server (outgoing mail)
any special requirements for incoming or outgoing mail (it's become commonplace to use SSL and special ports, and/or authentication for outgoing mail)
Exchange e-mail
If your business uses Small Business Server or your company runs an Exchange server, your computer is almost certainly a member of the company domain. Your password for mail is the same as the password used to log into your computer. Outlook gets the password supplied automatically when your computer is in the building with the server, but you will need to supply your login name and password each time you start Outlook from a computer at a remote location (from home or on the road, for example) or use Outlook Web Access. (Tip: if you have trouble logging in, try entering your login name in the form domain_nameuser_name.)
If you have an Exchange mailbox, you need to know:
your computer login name and password
the web address for Outlook Web Access
Hosted Exchange e-mail
Individuals and small businesses can get all the advantages of an Exchange mailbox without the complexity and expense of running an Exchange server themselves, by signing up for a hosted Exchange mailbox. The most sophisticated hosted service is Microsoft Online Services, but accounts are also available from GoDaddy, Own Web Now, and many other companies. For a few dollars a month, an Outlook mailbox can be accessed by Outlook on multiple computers at multiple locations, plus Outlook Web Access, plus mail/contacts/calendar on a variety of mobile phones.
Each of the hosted services has different requirements for login names and passwords. Some of them supply annoying "customer numbers" for the login name, instead of accepting the email address. Microsoft has a unique setup for Microsoft Online Services in the name of security: it requires complex passwords that must be changed every 90 days, but then provides a small bit of software that transmits that password whenever Outlook is opened, sparing the user from having to type it in repeatedly. The increased security is great but mostly my clients are annoyed each time the password has to be changed and wish the policy could be relaxed.
If you have a hosted Exchange mailbox, you need to know:
the login name
the password
the settings for a computer and a mobile device

Microsoft Online Services automatically configures Outlook; the others require complex settings deep in the account options related to the underlying RPC over HTTP channel that makes the hosted service work securely.

the web address for Outlook Web Access
Web-based mail
Of course, huge numbers of people use online mail services accessed in a web browser – Google Gmail, Microsoft Windows Live Mail (nee Hotmail), Yahoo mail, and many others. The login name is almost always the email address and people expect to enter a password but you might find you're not entering it every day after your web browser memorizes it. Don't let that be an excuse to forget your password! At the least, you'll need to know it each time you sit down at a different computer, plus you'll have to type it in when mail is set up with a mobile device or a mail program like Outlook or Windows Live Mail that can connect to the web account.
If you have a web-based mailbox, you need to know:
the e-mail address and password
Tomorrow: Windows Live ID and Google Accounts