Exchange Defender has a new tool for previewing quarantined messages.
Exchange Defender is the service used by many businesses to quarantine spam and scan incoming and outgoing mail for viruses before delivering mail to the company server. Exchange Defender sends a daily report listing all quarantined spam, as well as providing add-in software for Outlook and an online control panel for reviewing quarantined messages.
(Exchange Defender is well suited for any business running Small Business Server; almost all my clients with Microsoft Small Business Server rely on Exchange Defender. You need a partner to set it up for your business. If you're interested, drop me a note or give me a call.)
When a daily quarantine report is delivered to each Exchange Defender user, there is a link in the upper right corner leading directly to the online spam archive, where all incoming spam is retained for seven days. That link is the fastest way to review your spam; you'll be logged in automatically and immediately presented with the list of quarantined messages.

When the online list is displayed, Exchange Defender has added a very useful icon to give you an immediate preview of a quarantined message without having to wait for it to be delivered to your mailbox. Click on the magnifying glass to get a quick look at a message and decide if it should be delivered or if it was correctly identified as spam crap.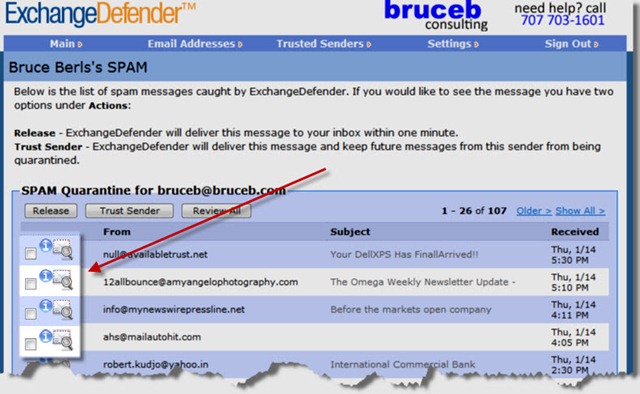 You can get more information about the sender and subject by hovering over the "i" icon.
When you click on the magnifying glass for a preview, you can send a quick reply to the message straight from the online display, with a copy to yourself for filing in Outlook.
If your business uses an onsite Exchange Server and you're not already signed up for Exchange Defender, give me a call! It's a great service.