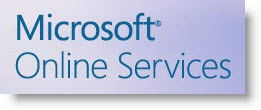 Some problems today with Microsoft Online Services, which leaves me feeling unsettled about it.
Microsoft has made a serious commitment to moving Exchange customers to hosted services. There are some real advantages for small businesses if someone else takes responsibility for the mail system – Exchange is a big, complex piece of work that needs regular attention and updates, and requires a high degree of expertise if something goes wrong.
Many third parties offer hosted Exchange mailboxes but in some ways, Microsoft's own hosted mail service offered through the Microsoft Online Services program is the best of the bunch. It's inexpensive, has generous storage limits, and a small bit of software takes away all the difficulty of configuring Outlook and starting it up each day. On the other hand, there is no sign that Microsoft will relent and allow subscribers to keep their passwords indefinitely; passwords have to be complex, they have to be changed every 90 days, and prior passwords can't be reused. That turns out to be a surprisingly difficult requirement for people to accept – the last thing anyone wants is more complexity in an overwhelming password-driven world.
On several occasions I've been told by MOS subscribers that Outlook was reporting occasional disconnects from the online Exchange server. Today I witnessed it in one office and confirmed it in several others – the service was going down for anywhere from a few minutes to almost half an hour. At times the web sites and control panels were unavailable too.
Here's the RSS feed from the MOS control center about service conditions. This morning the Administration Center went down. A few hours later, the first notice appeared – that all of the services and control panels for Microsoft Online Services in North America were going down for "planned maintenance."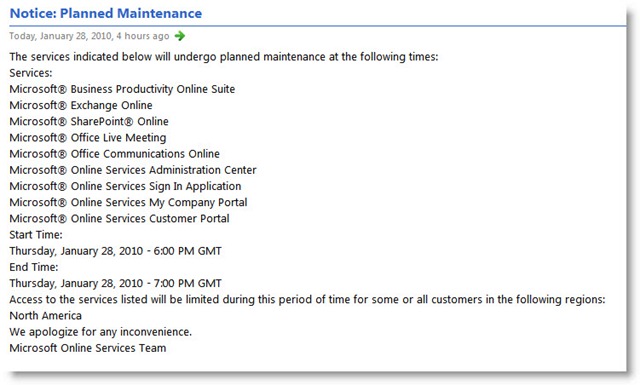 The first notice announced the outage for 6:00-7:00 GMT. If my clock is right, the notice appeared at or immediately after the outage. The first notice was followed at one hour intervals by similar notices for 8:00-9:00 GMT and 9:00-10:00 GMT, again with each notice appearing at the moment of a new outage. Two of the notices were followed by notices that the services were back online. A few minutes ago another notice appeared about service being restored to the Sign In Application, which is crucial to using Outlook.
I don't have any more facts about the underlying problems. It appears that the service is either being updated or changed in the middle of the working day, or the servers are crashing repeatedly. That's not good news for a service that should be bulletproof.
And in any case I resent the attempt to pass this off as "planned maintenance." We're not children out here. Microsoft: If you're planning something, announce it; if your system is crashing, don't lie to us.