I've been hesitant to recommend online backups after some early poor experiences, but recently Jungle Disk introduced an upgrade to their online backup programs that is very impressive – I've had good experience with it personally and I like everything I see about the program design and the new features. I want all of you to consider whether you want to add Jungle Disk as part of your backup strategy. In most cases it should be in addition to backups on an external hard drive or NAS device, but some of you (especially Windows XP users) might want to trust it as the only backup of your data.
In 2009 Jungle Disk was acquired by Rackspace, a big company with a global network of hosted servers. In November Jungle Disk launched completely overhauled software and new subscription-based pricing that makes it easy and inexpensive to get started.
The Jungle Disk software has a very streamlined appearance. After installation, all of the choices are presented in a a simplified configuration window; if a file needs to be restored, the process is done in a straightforward way.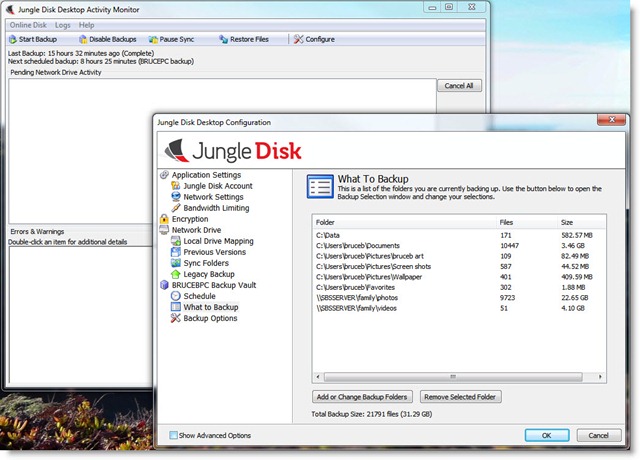 The work done behind the scenes is interesting! Basically, when you install any of the Jungle Disk products, an account is set up for you with Amazon's S3 service, an enormous storage facility used by Fortune 500 companies, software developers, web hosting companies, and file syncing and backup services. (If I remember correctly, far more bandwidth is used for access to the S3 storage than for all of Amazon's shopping sites put together.) Jungle Disk takes care of all the technical details, which used to be a fairly daunting part of getting started with it. (Optionally your storage can be located on Rackspace servers; from your perspective it makes no difference which you choose.)
The cheapest backup plan for individual computers is two dollars per month (plus the possible small additional charge described below). Billing is done through Amazon. Installing the program is easy and the initial choices are made for you of likely folders to be backed up. There are no limits whatsoever to what can be backed up – no limit on the number of files or folders and no limit on the size of files. Files can be backed up from shared network folders, so a single running copy of the software can back up files from multiple places on the network. You can install the program on multiple computers and use the same account to back up all of them with no additional charge for the program.
The pricing scheme works because you're also going to pay the fee charged by Amazon for storage space. After the first 5Gb of data, you'll be charged fifteen cents per month for each additional gigabyte of data. There are also small charges for uploads and downloads, although the amount of network traffic used by the backup program is typically very small and Amazon has waived upload charges through June 2010. Some people, therefore, will pay a few dollars every month for storage for backing up a huge photo collection, a large collection of business documents, or big Outlook .PST files, for example.
After the first backup is done, each night's backup will only include new or changed files. When a file is changed, the backup store retains earlier versions of the same file, letting you roll back to any date in the previous sixty days (or longer or shorter if you choose).
When the program is first installed and you identify folders to back up, the program will begin transferring copies of files to the online storage. This is a slow process! There is no easy way to calculate how long it will take, and it doesn't much matter – the process does not slow down your computer or bog down your Internet connection. It might be anywhere from 24 hours to a week before your first backup is done. This is not a good way to back up a large music or video collection! The computer does not need to be treated delicately during that time; backups will continue after the computer is restarted until everything is online. Most people will find that backups are always completed overnight from then on.
The Simple Backup edition will be sufficient for some people, but next I'll tell you about a feature that ought to make many of you consider the Desktop Edition for a whopping three dollars per month.