Microsoft has rolled out a minor upgrade to its free security program, Microsoft Security Essentials. A few days ago I began running into computers with an MSE icon by the clock that had an exclamation point in it. Take a look at your icon! If it looks like the picture on the left, double-click on it to start the program.
It takes a single click to install the upgrade. The process takes 2-3 minutes – it only seems like a long time if you're staring at the screen impatiently drumming your fingers.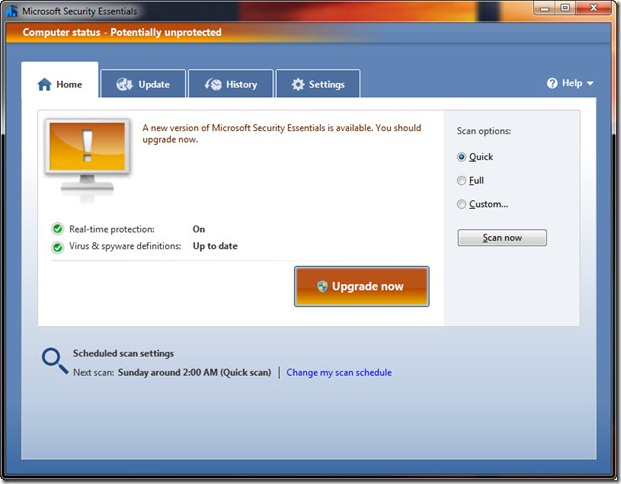 Microsoft has released no information at all about what is new or changed in this upgrade. The only visible change is the addition of a line showing when your last scan took place. A couple of people believe the first scan after the upgrade takes longer and subsequent Quick Scans are faster but there's no confirmation. Presumably something is changed under the hood for malware detection that makes the upgrade necessary.
Microsoft Security Essentials continues to be a good friend – free, easy to install, effective, and quiet in operation. If you haven't switched to it, think about making the move from Norton, McAfee, OneCare or the others. Here's more information about Microsoft Security Essentials to bring you up to speed.