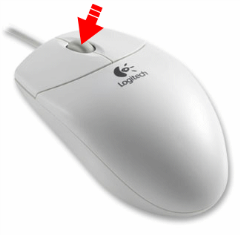 By this time you've probably learned all the cool keyboard and mouse tricks for your new Windows 7 computer, right?
You've been using Ctrl-X (Cut), Ctrl-C (Copy), and Ctrl-V (Paste) for ages.
It's old hat to drag and drop with the right mouse button instead of the left button so you can choose from a menu to copy, move, or cancel.
Windows 7 brought the lovable Windows Snap routines to expand a program to fill the whole screen, or either half, with quick mouse movements.
Those of you with dual monitors picked up on the keyboard tip for Windows Snap to march programs across the screens.
Think you've got them all? Here are a few more that use the middle mouse button.
Yes, the button. In the middle? Shaped like a wheel? Hey, I can't help it if you've never clicked it before – go ahead, push down on it. Feel it click? It's a button.
When you hover over an icon on the Windows 7 taskbar, thumbnails pop up showing each open window in that program. You may have noticed that you can close an open program by clicking on the little tiny X in the corner of the thumbnail, the one highlighted in this picture.

You don't have to fumble for the little tiny X. If you middle-click anywhere on the thumbnail, that window or program will close. Bang! No muss, no fuss.
And here's an even better one for anyone with dual monitors and the free DisplayFusion program: middle-click anywhere on the title bar of an open program and it will jump to the other monitor – no dragging required. (Thanks to the crack bruceb consulting research team for turning that one up!)
One last trick for Internet Explorer: middle-click on a link to open it immediately in a new tab, without leaving the page you're on; middle-click on a tab to close it immediately.
I expect everyone to be clicking industriously on all the buttons next time I look in the room. Get to work!