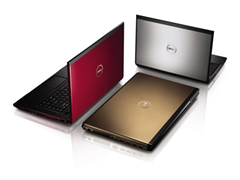 I'm not going to mention every product announcement that comes along, but Dell has introduced some small business laptops and desktops that look particularly appealing.
The Dell Vostro 3000 line of laptops come in a variety of screen sizes and weights (13", 14", 15" and 17"), with the latest Intel processors, extensive battery life, high quality graphics, built-in DVD drives and webcams, and all the usual accessories. Prices change quickly depending on what boxes are checked for processor, memory, video, software, but these appear to be comparable to all the other laptops on the market now.
Here's a blog entry from the Microsoft team about the new laptops, and here's a Dell executive waxing rhapsodic about them.
I've helped several clients buy Optiplex 780 desktop computers recently – sturdy, businesslike, guaranteed to last for years. Dell now has two other models of desktops that are well suited for small business, the Vostro 230 and Vostro 430. They'll be slightly less expensive than the Optiplex models, with smaller cases and more shiny surfaces, and a wide range of the latest processors and video cards.
It's a lovely time to buy a computer! Call me when you're ready to go shopping.