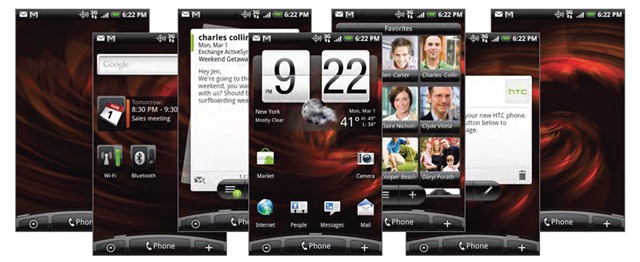 These are the first looks at screens from the HTC Incredible, a Verizon phone that will go on sale at Verizon stores and Best Buy on April 29. Verizon has not acknowledged the existence of the phone or made any official announcement about its release but the most active forum thread about the new phone has people reporting every conversation with a loose-lipped Verizon employee, every blurry photo of an inventory sheet, every mockup of an advertisement – more than 25,000 forum messages in the last few weeks. It culminated today with a leak of the entire 206-page product manual, quite a feat for a product that does not officially exist yet. There's circumstantial evidence that April 29 is the on-sale date.
The shift to smartphones is going on all around you, faster than you realize! The HTC Incredible runs the Android operating system from Google, which is rapidly gaining market share. It is already available on handsets from virtually every manufacturer and many more are in the pipeline.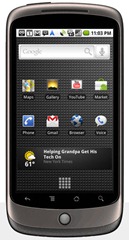 HTC customizes Android with an overlay referred to as the "Sense UI," which gives the home screen and many of the applications a distinctive look, like the screens above. Google sells the Nexus One directly (pictured at left), a pure Android phone with nothing added, like buying Windows without getting unwanted software from HP or Sony. Some people prefer it to the look of the HTC Sense overlay, and others prefer it because it is more likely to get updates quickly – and Google is likely to release updates for Android at a rapid clip this year. The Nexus One can be purchased for the AT&T and T-Mobile networks now; a model for Verizon was scheduled to be released this spring but the current gossip has it delayed until June.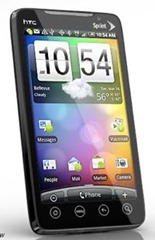 The HTC Incredible will be the most interesting smart phone on the market until this summer, when Sprint will introduce the Evo 4G, an Android phone that has even better hardware specs than the Nexus One and the Incredible. The Evo home screen is pictured at right – since the handset is also manufactured by HTC and features the Sense UI, the home screen looks just like the Incredible. Sprint's selling point will be support for the ultrafast 4G WiMax network, which doesn't exist yet. Sprint promises it will build it Real Soon Now.
Apple is not standing still. Yesterday it announced that a new generation of iPhones will be available this summer, along with an update to the operating system for current iPhone users.
AT&T is fighting to keep its exclusive rights to the iPhone, and Verizon is trying to get an iPhone for itself (and positioning the Android-based phones in case it can't crack AT&T's iPhone monopoly). Meanwhile AT&T is conflicted about Android phones out of fear that Apple will become irritable if AT&T promotes a competitor to the iPhone. The one thing that will help you understand the landscape is that huge amounts of money are at stake and none of the decisions will have anything to do with what is best for you as a consumer. That's all but irrelevant.
A couple of other quick notes. As I noted recently, T-Mobile introduced the HTC HD2 a couple of weeks ago, which has the same Sense UI but runs on Microsoft Windows Mobile 6.5. The HD2 was first displayed six months ago and looked very appealing, but a long time passed before it went on sale and the landscape looks very different now: Windows Mobile 6.5 is now an orphan, soon to be replaced by a brand new and incompatible operating system, Windows Phone 7, while the Android phones look the same and work as well as the HD2 and have a brighter future. The HD2 will drop out of sight quickly.
(Incidentally, I have to tell you the story of going into the T-Mobile store in Santa Rosa on the afternoon that the HD2 was released. The two employees continued to work with their two customers for the entire 15 minutes that I was in the store, neither making eye contact nor speaking to me while I gawked at their expensive new flagship product. The two display models were unusable – one had a completely discharged battery, the other was almost discharged and crashed constantly. It didn't matter – T-Mobile doesn't have any coverage here anyway – but it did seem rather symbolic.)
RIM still sells lots of Blackberry phones to employees of companies that directly support Blackberries. They're increasingly irrelevant to individuals and small businesses.
Palm doesn't sell anything to anyone.
Many people instinctively feel that they just want a device that makes calls, which is among the least important features of these new devices. Keep an open mind! You are going to be immersed in media coverage and advertising of the other things that smartphones can do and you might find something attractive about it.
More leaked pictures of the HTC Incredible (probably):