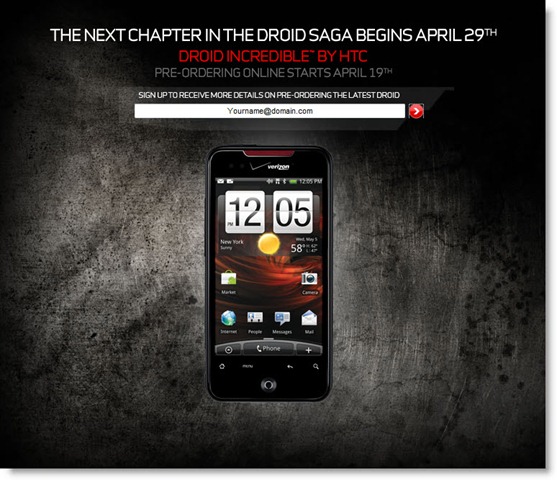 Click here to go to the official Verizon page for the newly-renamed "Droid Incredible." Click the phone images above for a high-resolution look at the phone. Click here for the background about why this looks like the best alternative to the iPhone for the foreseeable future.
The specs are way ahead of any other phone on the market – the newest version of Android, an updated Sense UI, an 8 megapixel camera, fast processor, 3.7 inch 800×480 screen, 8Gb of built-in storage, 802.11b/g/n wireless, and more. This thing is more powerful than your last computer.
From a press release, two specific new apps:
This is the latest version of HTC Sense, and it has some great new tricks up its sleeve including Leap, which allows you to pinch the home screen for thumbnail access to all 7 screens at once or long touch to easily access your recently used applications. . . .

The DROID Incredible by HTC has a new social networking feature called Friend Stream, which allows you to consolidate all of your feeds, like Twitter, Flickr and Facebook, into a continuous stream of updates. So instead of opening individual applications for each social networking site, you just use Friend Stream.
Pre-orders will be taken online starting April 19, with delivery on the release date. Details are a little sketchy about how that will work for existing Verizon customers – there are a thousand possibilities for upgrades during a contract, family plans, adding new lines, and it might take a store visit to sort it all out.