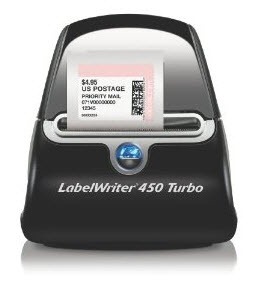 Here are a few anecdotes about setting up printers and scanners on new Windows 7 computers.
When Windows 7 connects to a new device, it attempts to install drivers automatically, and goes online to Microsoft if it can't find drivers locally. It is successful so often that I've changed my procedure – I connect USB devices to a new computer without putting a CD in the drive or running a setup program. In most cases, Windows sets up the device perfectly well using the simplest possible drivers.
There are always exceptions. That's why I'm fabulously wealthy, is because of the exceptions.
DYMO LABELWRITER  I set up a Dymo LabelWriter 400 Turbo last week. Windows 7 didn't get it right but it automatically brought up a troubleshooter with a link directly to Dymo's web site where I could download an updated version of the Dymo Label Software. The software includes drivers for the Dymo label printers, plus a program for designing and filling labels. It worked perfectly. Ace blogger Ed Bott set the same printer up last week and found the software includes direct support for Office 2010, with updated add-ins for Outlook 2010 and Word 2010.
FUJITSU SCANNER  Setting up a Fujitsu ScanSnap fi-5110EOX2, on the other hand, was far more annoying. The scanner wasn't correctly recognized by Windows, so I went sniffing around for drivers. It took some fumbling at the Fujitsu web site to discover that the scanner was more or less supported on Windows 7 as long as I got the updated version of the ScanSnap software. But I wasn't allowed to download the software directly! No, it's far too valuable for that. First I had to convince them that I was the deserving owner of a scanner by begging for the download link. All I needed was the part number and serial number, which were written on the back in a font that was far smaller than the bottom line on my last eye test, making it completely impossible to distinguish 0 from O and 8 from B and 1 from l. I went back and forth four times, submitting the form and waiting for a return email rejecting what I typed, before I borrowed a laboratory microscope and got it right.
Was that the end of it? No, the ScanSnap software threw up error messages all over the screen, causing more frustration until I eventually discovered that they were just kidding with the first package and the software wasn't going to work until I downloaded an even larger update. (It says something that I can't find that page tonight after ten minutes of searching the Fujitsu web site. Ah, here it is. Nice scanner, stupid handling of drivers, poorly organized web site.)
NETWORK PRINTERS  Network printers (connected with a CAT5 cable instead of a USB cable) can frequently be added without a driver disk if you can find them on the network.
The Add Printer wizard in Windows 7 will sometimes be able to find a network printer when you choose "Add a network, wireless, or Bluetooth printer."
If you can find a printer in the Network browsing window, a right-click on the printer and a left-click on Connect brings it to life in short order. (That's also the fastest way to connect to a shared printer on another computer.)
When that fails but you can discover the IP address or hostname of the network printer, there is always the completely unintuitive approach to the Add Printer wizard: click on "Add a local printer," create a new Standard TCP/IP port, and put in the IP address or host name. I was able to connect that way in seconds to a big HP P4014n LaserJet printer. I'd like to talk to the person who decided that clicking on "Add a local computer" was the right way to begin installing a networked printer.
ALL-IN-ONE PRINTER/SCANNER/COPIER  The drivers automatically installed by Windows for all-in-one devices will frequently need to be supplemented or replaced by drivers downloaded from the manufacturer to get a TWAIN scanner driver that can talk to Adobe Acrobat. The proprietary software supplied by HP and others might be swell but there is much to be gained from consistency, and it works best to initiate all scans from Acrobat.
As always, never insert a CD from HP into a computer; search the HP web site for the leanest, smallest driver package and avoid as much of HP's bloated software as you can. (I'm still appalled by the example I turned up last year, pictured below, offering a smorgasbord of drivers ranging from 53Mb to the "Full Feature" package that was more than 500Mb. Presumably the "Full Feature" suite was on the CD in the box. Installing 500Mb of software to drive a printer is how you break nice computers.)
Hook up the USB cables and have fun with your new computers!