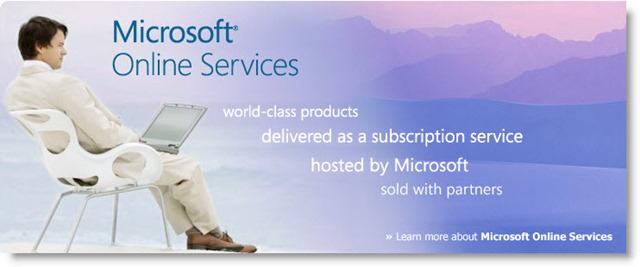 Previously:
Fear of Exchange
Moving Mail Online With Microsoft Online Services
Small businesses should strongly consider having their Outlook mailboxes hosted on Exchange Servers run by Microsoft for a small monthly fee. I'm going to recommend this to a number of my clients and I encourage anyone interested to contact me to talk it through. I'd like anyone in a business with 2-20 employees to read this carefully!
For businesses currently running Exchange in an onsite server (usually as part of Small Business Server), the move to hosted services does not significantly change the experience of using Outlook. If, however, the onsite server is getting old, moving the mail to a hosted service avoids the risk of an expensive collapse if the Exchange database is corrupted or the server goes down, and reduces the cost of upkeep – no more Exchange security updates and upgrades.
Small businesses that are not running Exchange now can step up easily and cheaply and take advantage of the convenience and flexibility that Exchange brings to your mailbox.
FEATURES
MULTIPLE COMPUTERS The same Outlook folders can be displayed on multiple computers at multiple locations. You can use your Outlook folders seamlessly from a desktop computer at the office, a desktop computer at home, and a notebook computer on the road, and Outlook is always up to date at all locations.
MULTIPLE LOCATIONS Office workers will be linked together and share Outlook folders even if they are in different offices.
WEBMAIL Outlook folders can be accessed online through Outlook Web Access – full access to all Outlook folders presented in Internet Explorer, like other webmail services.
SMARTPHONES Android phones, iPhones, and Windows Mobile phones can sync email, calendar, and contacts over the air continuously.
SHARING Calendars and address lists can be shared with other people in the office.
SECURITY Microsoft provides virus and spam filtering.
REDUCED COSTS Microsoft is responsible for backups, database maintenance, security updates, and upgrades.
MAILBOX SPACE
By default, each hosted mailbox is given 25Gb of storage space. File attachments can be up to 30Mb.
DOMAIN NAMES
The service works with mail to a business domain name, like bruceb.com. If you are using a free address from your ISP (e.g., att.net, sonic.net), or an online service (e.g., gmail.com, hotmail.com, yahoo.com), then you're not ready for the hosted mail service. In that case, though, think about whether it's time for you to step up to a more professional presence for your business! It's very, very cheap to begin using a domain name for your business. I'll help you with that. It can be expensive to put up a web site (it doesn't have to be, but it's easy for it to turn into a big project), but it costs almost nothing to register a name and begin using it for mail.
Worth noting: changing the business mail requires changes to some records at the web host or registrar that has control over the domain name. Typically that only requires digging out a long-forgotten password. Occasionally it turns into a difficult exercise for names registered long ago by people who aren't around any more. It's always solvable but that's one place for the project to take an odd turn.
COST
Five mailboxes cost $25/month, with a one year contract. Additional mailboxes are $5/month per mailbox. The minimum charge is $25/month, but at the moment there's an odd imbalance in the market: Microsoft is undercutting everyone else on price, so this is the service to consider even if you only have two or three mailboxes to set up.
It's worth noting that the Exchange services are sold separately but they can be purchased as one component of a bigger suite of services, including Sharepoint Online and Office Communications Online. In my experience small businesses tend not to use those because of the rather fierce learning curve, but you might want to at least look into them. The full suite is $10/month per mailbox.
There is some cost to setting up the service and migrating the existing mailboxes. That's different for each business but it's seldom very much. Talk to me and I'll give you more information about how your migration might go.
CAVEATS
Microsoft's security requirement means a new password to memorize. The passwords for the service must be complex and they must be changed every 90 days. It's an inflexible requirement that some people find annoying.

BUT: Microsoft supplies software for computers running Outlook that sends the password whenever necessary. The only time the password is required is for Outlook Web Access – or when the password has to be changed.
The password requirement means that the mailbox is very secure. Your passwords are your only defense against identity theft, financial loss, compromised computers, and breaches of confidentiality and privilege. I sympathize that you'd rather not have another password to remember but, sorry, folks – keeping your mail secure with a strong password is a selling point, not a problem.

Microsoft's spam filtering is inflexible. Microsoft only sends a spam report every three days. You can release messages individually but you don't have access to a "safe senders" list – I have to go to an administrative control panel to add names to a white list if messages from some senders are persistently blocked. The filters are very accurate, so it has not been an issue with anyone that I support.
Think about this! If you've gotten a notebook or a smartphone and you're frustrated that you can't get your calendar or contacts on it easily, this is the answer. Call me for more information!