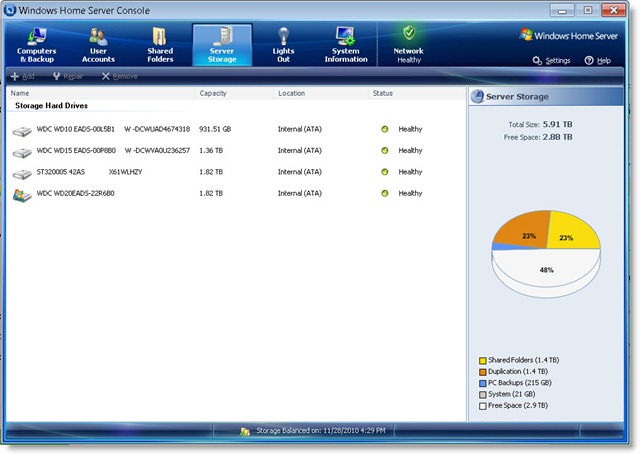 Drive Extender deserves another mention before it heads into the graveyard of failed technology.
If you've been reading along, you know that Drive Extender was the promising technology built into Windows Home Server to make it easier to manage storage space on a network device. Drive Extender pools the storage on all the hard drives in a Windows Home Server device, with little regard for drive letters, partitions, volumes, RAID, or the other arcana of hard drive management; and it replicates data across the physical hard disks so that no data is lost in the event of a hardware failure.
At one time Microsoft intended to make Drive Extender the foundation for hard drive management in all its products – a huge undertaking that would have had repercussions at all levels, from enterprise servers to our individual home computers. For that to occur, the technology had to be rock solid and 100% compatible at all levels, hardware and software.
Last week Microsoft pulled the plug and stopped its development efforts on Drive Extender, dropping the technology from all of the upcoming products where it had planned to use it. Apparently too many products are built on certain expectations for how hard drives are managed by the OS; security, backup, and database programs were just not completely solid on a Drive Extender platform and Microsoft couldn't get past the technical problems. There was also no good way to answer the objections from people who have an investment in existing RAID technology, or who find it terrifying that a disk from a Drive Extender device may not be readable when it's attached to a different device.
In my article about Windows Home Server, I mentioned that Drive Extender had already suffered a major hit to its reputation when a rare data corruption bug had remained unfixed for eight months. That history is haunting the technology now: if anything turned up in Drive Extender now that caused data loss, those old stories would be endlessly rehashed and Drive Extender would be finished. There would be no second chances for Drive Extender – it's already used up its first chance.
I expect a fair amount of retooling now before SBS 2011 Essentials hits the market, and it's possible that you will still be offered technology to make it easy to expand storage without technical fuss. There are already devices on the market that can do similar tricks; the best known are devices marketed as "Drobo," which use a modified version of RAID to let you install non-identical hard drives on the fly to increase storage space. (Although HP had been one of the leading vendors of Windows Home Server devices, an announcement came out last week that HP will be selling Drobo boxes – which may not be a coincidence, since a lot of people think the lack of Drive Extender will kill the Windows Home Server line.)
This will likely have no impact on you. It doesn't affect products already on the market. With luck, the SBS products released six months from now will be appealing and wonderful and you'll run your small business on them happily.
But I'll be shedding a small tear, because this was some great technology that would have simplified our lives just a little bit, at a time when simplicity is hard to come by. Adieu, Drive Extender!