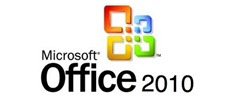 If you've gotten a new computer, then you've probably been relying heavily on my list of the best new Windows 7 features, chock full of screen shots and background information to help you discover the new features in the taskbar, the joy of snapping windows, and what it means to move around in files and folders by using breadcrumbs. (Read it again – or for the first time. Windows 7 is just great.)
Once you've got Windows 7 sorted out, here's a great article that presents ten things to know about Office 2010. Everyone using Office 2010 will find something useful here!
A few of the best things from the article:
1. File Tab Replaces Office Button
It's just a cosmetic change but it has caused everyone to relax: the Office programs once again say "File" in the upper left-hand corner.
Clicking on "File" produces an unusual full-screen display. Microsoft calls it the "Backstage" view, and it's got some appealing features. The print preview is big and accurate, printer controls are clearly exposed, and the choices for sending documents to various places are laid out cleanly.
On the other hand, the full-screen display is not always consistent and a fair amount of space is wasted – and it leads to one unfortunate mistake all too often. Since the original document is concealed, it seems natural to click the "Exit" button on the Backstage view to return to the document. Wrong! That exits the program completely. I still do that by accident all too often. Right answer: click on another tab to return to editing.
There is now some flexibility to arrange things on the ribbons so they feel natural to you, although it's not quite open enough to put a big "Print" button on the ribbon where it belongs. I don't know where the information is stored or whether it will be possible to retrieve your customized toolbars if Word crashes. I lost custom toolbars over and over in the early years of Word and WordPerfect, every time the default template was corrupted. Is it worth putting a lot of effort into customizing the toolbars now, or will it be lost at the first wobble?
If you're moving from Office 2003 and getting your first look at the ribbons, there are guides from Microsoft for each program, and an online interactive guide that might be worth putting on your Favorites list until you get oriented.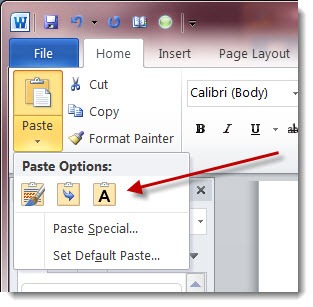 A small, really lovable feature. Copy something onto the clipboard, switch to the Office program that will receive it, and click once to put the cursor where it will be pasted. Then click on the little arrow under "Paste" to drop down "Paste Options." You'll see a visual preview as you hover over each choice, so you can see how the formatting comes out before you commit.
You can create PDFs from Office programs without owning Acrobat or another program. This was true in Office 2007, too, but it's still not widely known. It's under "Save & Send" in the Office 2010 file menus – not a particularly intuitive place.
There are screenshots and more tips in the original article. Highly recommended.
Thanks to Mike Cook for calling the article to my attention!