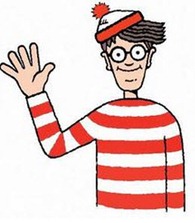 Fun for the whole family! Try to figure out where the toolbars are that appear and disappear in Adobe Acrobat X when you open a PDF file in your web browser!
---
SUMMARY: When you open a PDF in your web browser after installing Acrobat X, it may not have any toolbar across the top for saving or printing the file. Adobe has moved the controls to a floating toolbar that only appears when you move your mouse to the bottom of the page. You can make the normal toolbars appear permanently by opening Acrobat, clicking on Edit / Preferences / Internet, and unchecking Display In Read Mode By Default.
---
Adobe is dealing with the same problem that Microsoft addressed after it released Office 2003: programs whose menus and buttons had become unwieldy and disorganized after years of new versions with constantly growing lists of features. Microsoft moved to the ribbon bar that was introduced in Office 2007 and is now being used more or less consistently in many Microsoft products (including the next version of Windows, according to early reports.)
Adobe has tried to revamp its menus and buttons in Acrobat X and Adobe Reader X, the latest versions of its essential business programs. It's having a little problem with consistency.
When you open a PDF in Acrobat X, there are simplified buttons across the top and a new Task pane on the right with an organized list of features and flyout menus. It's reasonably easy to find your way around.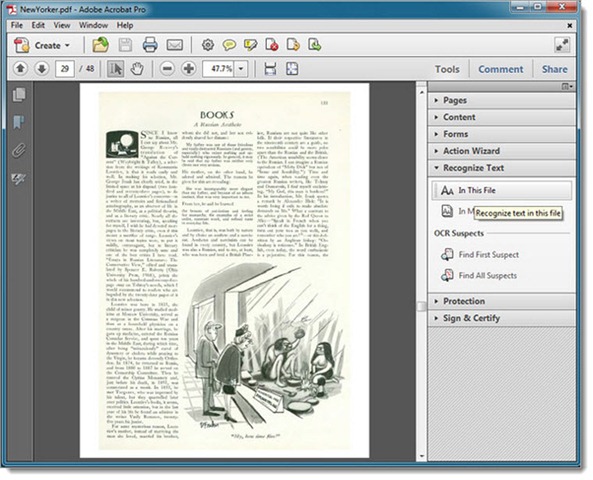 When you open a PDF file in Internet Explorer with Acrobat X installed, the file will display in the browser, just like you'd expect. But now try to save it. Ha! The trick worked! I see the look on your face. The toolbar is gone! The buttons to save and print – they've vanished! Poof!
It's not a bug, it's a feature – at least, that's what Adobe says.
If you move your mouse cursor down to the bottom of the page, in the center, a mysterious semi-transparent floating toolbar will swim into view.

Adobe's online help page (which for some reason is designed with a  really small typeface) explains:
When you open a PDF inside a web browser, the toolbars, navigation pane, and task panes are not available. You can display those items by clicking the Acrobat icon  in the semi-transparent floating toolbar near the bottom of the window.
It's kind of a parlor magic trick. Once you know the trick, it's easy.
There is another trick. So far everyone I've spoken to wants the buttons to be up at the top every time they open a PDF from the federal court's PACER system, or from the IRS, or from any of the other thousands of places where PDFs are posted online for businesses.
Open Acrobat and click on Edit / Preferences / Internet, and uncheck Display In Read Mode By Default. You should now see PDFs displayed in Internet Explorer with familiar buttons across the top.

There are a couple of other things about this redesign that bear on this.
I haven't seen it but John Heckman reports that the main Acrobat X program starts by default after installation with the same bare display, no toolbar buttons visible. Try going to Edit / Preferences /Full Screen and checking Show Navigator Pane in that case.
In a separate page in its online help files, Adobe describes how to turn off the toolbars on demand to "maximize the viewing area on your screen." On this page Adobe reveals that this view is called "Read Mode"; it's described as the "default viewing mode when you open a PDF in a web browser." Unfortunately, Adobe either has more than one floating toolbar, or it has written its help documents poorly, because the illustration in the online help file doesn't match the floating toolbar that shows up in a browser. Notice that there's no Acrobat icon to return to normal view. Will the X do the same thing?

That's not all, of course. There is yet another view called "full screen mode," with everything hidden. It takes roughly 48,000 words to describe how that works.
Be prepared for some adjustments when you get Acrobat X! This isn't a reason to fear Acrobat X or resist upgrading. There's no way to avoid it: nothing stays the same.