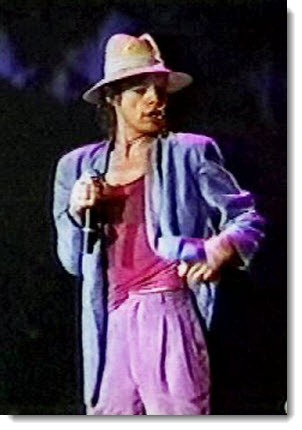 One of the interesting mysteries of our time is how Wolfgang's Vault has been able to stream live performances by hundreds of artists for the last few years, in an era where record labels have fought so bitterly to keep us from hearing music in the name of "copyright." Apparently Bill Graham signed contracts with different terms than other promoters, giving him liberal rights to rebroadcast the audio and video of the shows, and his successors have been able to capitalize on that.
A few days ago the site added hundreds of concert videos for free streaming, including some priceless bits of history that have had me drenched in nostalgia this evening. Here's some background on the job of digitizing old footage in various formats and various stages of deterioration.
Aging baby boomers who have any recollection of the time when music still had power should go by and look down the list of performers.
The highlight for me is a chance to see the Allman Brothers playing Whipping Post at Fillmore East, six months before the recording of the live album that catapulted them to stardom, with Duane Allman and Berry Oakley and Dickie Betts locked into their instruments, coaxing magic out of thin air, in the zone that makes you want to be a musician. Bob Lefsetz describes it this way:
Shot before the breakthrough of the live album what's utterly fascinating here is it's the Fillmore East!  You've got memories in your brain, and that's all they are, distant links to images past, and suddenly you're confronted with pictures and you're whole again, it's like reconnecting with your birth mother!

Please notice everybody sitting down.  This was before the disrespect of "festival seating", i.e. "standing".  Under the ruse of getting people closer to the music, allowing them to move and groove and have beer spilt upon them, promoters oversold venues and suddenly you couldn't see, you were constantly being bumped into and concerts became more akin to war than peace.

. . . This performance is not frozen whatsoever.  They're not playing for the camera, they're playing for the collective consciousness, they don't want to reach somebody, they want to reach EVERYBODY!  Blow them away, get them to go home and tell everybody they encounter about the incredible act they saw last night.
Then there are two shows from Crosby Stills & Nash (with some Young) at Winterland in 1973, grainy black & white, but a chance to see them at their best, when the music was new and David Crosby was (more or less) thin.
There's the Rolling Stones in 1981 slowing down and pulling out acoustic guitars for a beautiful version of Waiting On A Friend with Ernie Watts on sax while original members Ian Stewart and Bill Wyman anchor the rhythm section for the last time. (This is the memorable show where Keith Richards chases down a fan and hits him with his guitar when the fan runs onstage during Satisfaction.)
There are many more highlights.
Pete Townshend of The Who windmilling his arm and Roger Daltry twirling the microphone during Young Man Blues in 1970, before launching into Tommy.
The Sex Pistols playing their last concert ever.
Entire shows from the 70s by The Tubes, whose visual antics help to make White Punks On Dope even stranger than it already was on the radio.
The Byrds doing an extended version of Eight Miles High at Fillmore East in 1970.
Jefferson Airplane at Fillmore East in 1970, Lynyrd Skynrd a few months before the plane crash, some footage of The Motels where Martha Davis shines even when she's out of focus, Aretha Franklin, The Band, Bob Marley, and so much more.
It's not all nostalgia – there are some treats for people who are under 55, too, like an entire show by high-energy band Ted Leo & The Pharmacists, and another one from my new favorite, Deerhunter.
It's not exactly a novelty that the Internet has made things available that were at risk of being lost forever – but this is a particularly nice example. If you still have it in you, lock yourself away so you can play air guitar without embarrassment and watch some old music!