Dell introduced the XPS 15z this week, a new ultrathin 15" notebook for $999. It might be exactly right for many people – a bigger screen than the 13" Vostro V130 and a much more reasonable price tag than the gorgeous Samsung Series 9.
Apple has once again provided the inspiration for the design. Samsung more or less copied the MacBook Air for its ultrathin Series 9, and Dell has copied the MacBook Pro in almost every detail. Engadget has an amusing gallery of photos from all angles of a MacBook Pro and an XPS 15z next to each other and it's obvious that the new Dell laptop is an homage to the original. (The MacBook Pro is on top in the photo below.)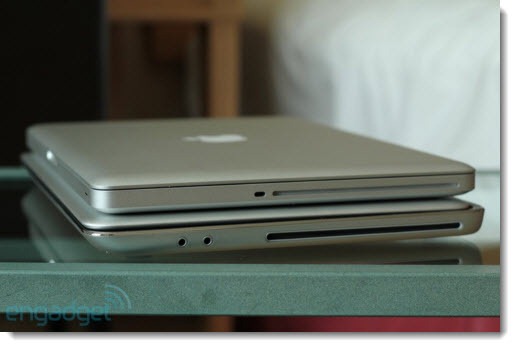 That's a good thing. Apple has been showing the industry how to design stylish computers for years. Even if it loses a few points for originality, Dell has designed a lovely copy, filled it with the latest technology, and priced it considerably below a MacBook Pro.
There's a fast Core i5 or i7 processor inside and the specs on everything else are very satisfying, better than average stuff. The speakers are better than you expect, it's got a nice dedicated Nvidia graphics card, USB 3.0 ports, all the rest. (No solid state drive, which would have taken the price up quite a bit.) Remember that, like all PCs, you will spend an additional two hundred dollars on Microsoft Office 2010 Home & Business.
Engadget and PC Magazine both did exhaustive reviews. You can go buy one at Dell's Home Division. Notebooks have become almost completely generic but I still strongly believe in jettisoning unnecessary bulk and weight. The XPS 15z makes it possible to do that at a reasonable price point.