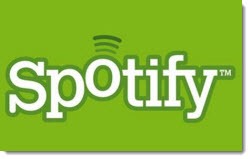 You can be excused if you haven't heard of Spotify yet. For months it's been a hot topic for music junkies who have been impatient for it to debut in the United States. People addicted to tech blogs have been scrounging for invitations since the U.S. service was opened up last week.
If you have any interest in music at all, you should pay attention, because there's a chance that this will be the service that becomes your primary source of tunes. In fact, if things go the way some industry insiders expect, Spotify will be a colossal success and after you get used to the idea, you'll consider giving up the very idea of a library of "your" songs. You know what? They might be right. This is the service that the music industry should have rolled out ten years ago, when Napster made it obvious immediately that the traditional music industry was going to be turned on its head.
Spotify is a music player that you can install for free on your computer. You can search for anything in a library of 15 million songs. When you click to play a song or an album, it starts to play immediately in reasonably high quality.
And that's it. The holy grail of online music. There are more details and options but that's the heart of it. It works brilliantly. The selection is huge – Spotify is the first service like this to sign deals with the four major labels in the U.S. The software is simple, similar to iTunes but much less cluttered.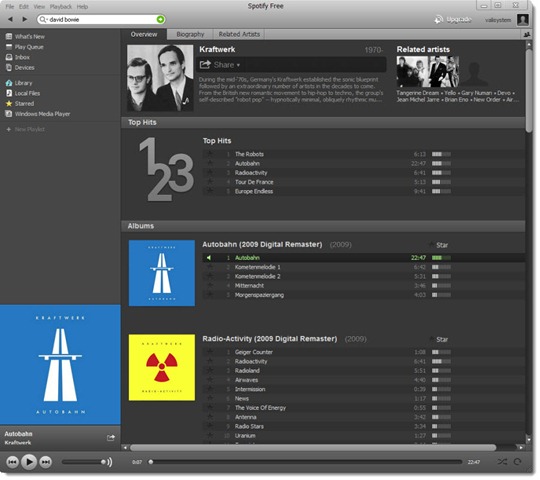 Spotify has been streaming music in Europe since 2008 but was unable to sign deals in the U.S. with the major labels until now. European users have raved about the service. Spotify claims to have 10 million users in Europe, with 1.6 million paying subscribers.
The free program is ad-supported. (In the future there may be monthly time limits on the free account but it is opening without them.) You can remove the ads for $4.99/month with an "unlimited" plan. If you get the "premium" plan for $9.99/month, you can run the Spotify app on your smartphone. The Premium plan also lets you do some other useful things – better sound quality, and the ability to download playlists and listen to them later on your computer or phone even if you're offline. You can compare the various plans here. This is a natural for smartphones; ten dollars a month to play anything you can imagine on your phone might not seem like a bad deal at all.
As you might expect, there are details that might affect your experience or your opinion. Here are a few things to know, in no particular order.
The crucial fact: Spotify plays the music that you choose. This is not a radio. Pandora is an online radio that plays music more or less to your taste continuously. Spotify plays specific songs or albums that you choose, or playlists that you create. You have to know what you want to listen to!

This may change. There is a "Radio" feature in Spotify in Europe that is not currently available in the U.S.

Search features are sometimes eccentric. You might find an artist listed in a number of different ways, each leading to a different selection of songs. ("Mick Taylor / Mick Taylor (Formerly Of The Rolling Stones) / Mick Taylor (ex-Rolling Stones) / Mick Taylor (ex-The Rolling Stones).") Albums might be missing or incomplete, or you might not find the obscure items in your niche.

The search is unforgiving. If there's a typo in your search, you won't find anything – period.
The classical music selection is reportedly weak, and Spotify won't handle searches for classical performances well.

When you install Spotify, it immediately searches through your local music folders and adds them to your Spotify library, so theoretically it could be your only music player. That's convenient but it can occasionally be confusing – apparently the Spotify player won't play songs protected by DRM, for example, and you might have odd results if you log in on a second computer that doesn't have access to some of the local songs in your library.
Spotify enters the U.S. market with a head start after its European success but Apple is not likely to sit still and let Spotify steal the glory from iTunes.
Keep an eye on your bandwidth. If you're streaming to your phone, listening to music might push you over your monthly cap. If everyone in the office is streaming to their computers, you might be using up all the office bandwidth and slowing the Internet browsing for the people who are doing work.
If you want to start a paid subscription, you can do that right away at the Spotify web site. Invitations to start a free account are appearing and disappearing. As of Sunday night, you can get a free subscription sponsored by Coke, and another one sponsored by Chevy (visit the Chevrolet Sonic tab on the Chevrolet Facebook page, and bear in mind you're volunteering for a bunch of Chevy spam).
Give it a try! Being able to listen to anything, just for the asking – it's rather intoxicating.