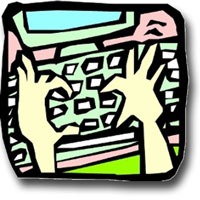 Exactly twenty years ago the World Wide Web opened to the public.
Yesterday, crack web site designer Andrew Berls finished work on the refresh of www.bruceb.com.
Those things aren't related, I just thought it made the web site redesign sound more important. But the redesign does give me an excuse to give you a tour of some of the things we're doing at the global headquarters of Bruceb Consulting!
---
WEB FAVORITES
We have modest goals: the Internet Favorites page is simply meant to be the most useful tool on your computer. Make it your home page, become familiar with the layout, and you'll be able to navigate online faster than ever. Lightning-fast browsing to the most popular online destinations with no ads, no distracting flashy bits, and no gossip headlines.
Click here for instructions about how to set Internet Favorites as your home page.
Let me know if you have any sites that you visit regularly that deserve to be included. (And drop me a note if you find any dead links – these sites change regularly.)
Arguments raged over the redesign. Andrew did a brilliant job of coming up with a layout that will get you easily to where you want to go. If you want to compare, flip back and forth between the new page and the old page – I think you'll agree we've taken a giant step forward.
---
BRUCEB NEWS
People who read Bruceb News regularly don't call me as often for help, because I pour every single thing I know about technology into those articles every week. Computer tips, shopping suggestions, support information, security updates, and much more – written in plain English.
Subscribe to get each article delivered by email, three or four times a week. No ads, no charge, just an unending supply of riveting technology entertainment.
---
MONITORING AND UPDATES
In 2011 I introduced an inexpensive monitoring service that keeps computers safe by silently and automatically installing security patches and updates for Windows, Office, Firefox, Chrome, Java, Flash, Adobe Acrobat & Reader, and other important programs and utilities.
It has quickly become an essential service for my clients. If you haven't signed up, or if you're a client and you want this protection for your home computers or notebooks, it takes less than five minutes to set up. Click here for more information about the monitoring and update service, and give me a call if you want to sign up.
---
BRUCEB ONLINE
There is a gallery of screen shots here showing how bruceb.com has evolved over the years. 
Please join me at the other online outposts of the Bruceb Empire!
Thank you for your continuing friendship and loyalty! I look forward to working with you on your technology projects for many years to come.