Things are quiet in the technology world, so forgive me if I pass on a tip about a Sonoma County attraction. It took me by surprise when I found out about it.
Sonoma Canopy Tours has an extensive ziplining course in the redwoods near Occidental. It's a blast! If you're a local, don't wait for out-of-town visitors – treat yourself to a day of flying in the trees.
There is no shortage of things to do in Sonoma County, of course, but I had no idea that there was a zipline course in our backyard. It's a good one! Seven lines, with one over 800 feet long, plus narrow suspension bridges, a spiral staircase up the side of a tree, and the rather extraordinary experience of rappelling down 80 feet at the end of the course. You'll be standing on narrow platforms in between zips, a hundred feet in the air, looking out at panoramic views across the coastal redwoods. The good news is that the cable and harness system leaves you feeling completely safe.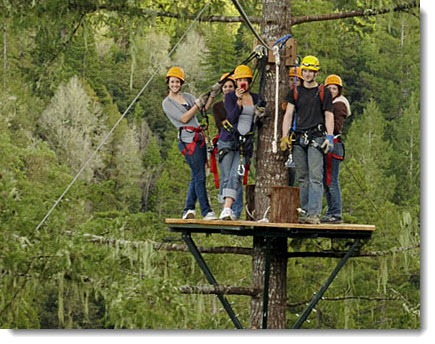 I had not heard anything about Sonoma Canopy Tours until this summer. It's been operating for just over a year, raising money for Alliance Redwoods. (That means there is a religious group in the background but that played no role whatsoever in any part of the ziplining experience.) The word is getting out to the travel community – and of course you can find Sonoma Canopy Tours on TripAdvisor and Yelp, the most important marketing tools for any travel destination now.
At the moment weekends are booked up for more than a month in advance. The course will continue running year round and reportedly is quite beautiful in the winter, with fog visible in the trees and mist making the zip lines faster.
Most people think of ziplining as something exotic to do in Costa Rica or Kauai or someplace equally distant. It's quite a treat to have the chance to do this at home. Treat yourself! I guarantee it will be one of the more memorable things you've done in Sonoma County.