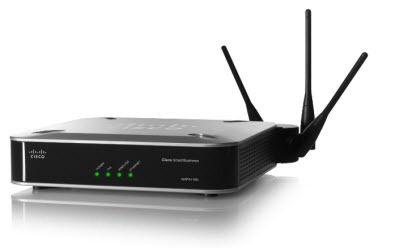 Recently I set up a Cisco RV220W wireless router, and a Cisco WAP4410N wireless access point. They are part of Cisco's small business line and cost roughly twice as much as comparable consumer products – roughly $260 for the router, for example.
The wireless range extended far beyond my expectations. There are so many variables that it's pointless to list a random number of feet. Let's just say that I had a strong signal through many intervening walls far beyond anything I would have guessed from my previous wireless experiences.
As you upgrade your equipment, you are more likely to be able to take advantage of the current wireless standard, 802.11n, which offers as much as five times the speed and twice the range of old stalwart 802.11g. This was the first time that I had a vivid demonstration of what a difference that can make, when it's paired with business-class hardware and a Windows 7 computer.
It's not clear that there is some magic in those two specific Cisco devices, but there was no question that the devices were a step above the level of Cisco's Linksys-branded equipment for sale at Best Buy. Cisco acquired Linksys in 2003 and originally intended to make the Linksys name disappear over time. From Wikipedia: "In 2007, Cisco CEO John Chambers described the long-term plan to kill the independent Linksys brand: 'It will all come over time into a Cisco brand. The reason we kept Linksys' brand because it was better known in the US than even Cisco was for the consumer. As you go globally there's very little advantage in that.'"
Cisco never quite carried through on that plan. Some products with a Cisco brand look a lot like consumer-grade Linksys boxes with a new label. Some business-class equipment has a Linksys glossy finish. The names on the boxes seem fairly arbitrary – Linksys, Cisco-Linksys, Cisco. Cisco continues to introduce Linksys-branded devices, but the commitment is so half-hearted that you'll see people speculating that Cisco might decide to sell the Linksys brand and get completely out of consumer equipment.
Cisco built its reputation on enterprise equipment that costs thousands of dollars and requires specialized training simply to understand what it does, much less how to program it. I wasn't aware that it was making devices for small businesses like the wireless router and access point – better quality than Walmart-grade devices at a price that small businesses can afford.
The cost is trivial if it can do for you what it did for me. I have wrestled with wireless in my house at excruciating length over the last few years. It's not a large two-story house but I could not get wireless coverage throughout. Most recently I solved a few of the connection problems with a TrendNet TEW-690AP wireless access point but still couldn't get a signal in the bedroom or at the breakfast table.
I put in a Cisco WAP4410N wireless access point and – well, it was as simple as that. Coverage all over the house. Two bars and quick speeds in places that were completely dead before. It makes me happy. It was worth any price. (If you need a router instead of a wireless access point, the Cisco WRVS4400N wireless router appears to be similar to the WAP4410N and slightly cheaper than the RV220W.)
If you've got wireless coverage issues, I'm a little more optimistic that throwing money around might help. As always, your mileage might vary, but think about stepping up to a better grade of equipment.