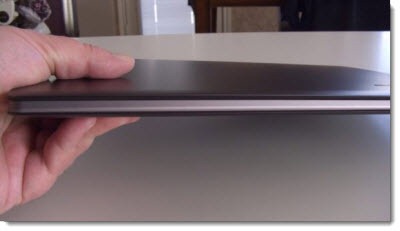 Attentive readers will recall that a new platform for thin and light notebooks was announced by Intel a couple of months ago. The first Ultrabook notebooks are hitting the market in November. I haven't seen these in person but they strike me as being good representatives of what everyone should be looking for in a notebook these days.
The Asus ZenBook UX31 is now available and getting rave reviews for its solid construction and stunning performance, at a starting price of $1,099. It's a 13.3" notebook built on Intel's new Ultrabook chipset, vanishingly thin and weighing less than three pounds.
Solid state hard drives (SSD) are finally starting to become mainstream. They are so fast compared to conventional hard drives that the 128Gb SSD in the Zenbook makes everything fly. The real effect of the SSD, though, is how Windows 7 handles going to sleep and waking up. When you raise the lid, you can expect to be at a usable desktop in 3 seconds. (It only takes 15 seconds or so to get to a desktop from a cold start.) It is so close to an instant start that these notebooks are very appealing alternatives to an iPad for someone who needs a real keyboard and full program functionality.
Asus went a long way to make this model stand out. The case is all metal, the metal chiclet-style keyboard looks great, battery life is impressive, and Asus got Bang & Olufsen to supply some components for the sound system. It is slightly more expensive than the Acer Aspire S3, another Ultrabook that hit the market recently, but reportedly is a significantly better notebook across the board. If you want more info, there are more reviews here and here.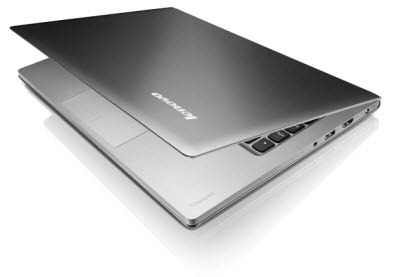 Lenovo will be shipping the IdeaPad U300S in November and the first models are starting to appear in the hands of reviewers, who are gushing. ("The best Windows notebook I have ever used.") It's got similar specs and a similar look and feel to the Asus Zenbook at a slightly higher starting price. It will be tempting to add a few hundred dollars to the price to get a better Core i7 processor and a 256Gb SSD. Lenovo claims to have done work to extend battery life to 8 hours of usable time and 30 days of standby time.

If you're not sure that you will be happy with a 13.3" screen, take a look at Dell's XPS 15z (now shipping) and 14z (shipping November 1). They are not built on the Ultrabook platform and do not have quite the incredible thin and light feeling of the true Ultrabooks, but they drop quite a bit of thickness and and a couple of pounds compared to traditional notebooks.
The 14z will start at about $1,000. It has specs that are very similar to conventional notebooks – a 750Gb conventional hard drive if you need lots of storage space, Nvidia graphics, and the optical DVD drive that is missing from the Ultrabooks. It looks particularly sexy; Dell fit a 14" screen into a chassis that is otherwise comparable to most 13.3" notebooks, so the display is gorgeous, stretching edge to edge with almost no bezel. Like the Lenovo, it will be tempting to put more money into an upgraded processor and a faster SSD. More info: here's a review of the Dell XPS 14z, and here's another.
This is the price range and the category that you should have in mind when you're shopping. You might save a couple of hundred dollars by buying a heavy, bulky notebook but you'll be carrying those extra pounds for a long time.