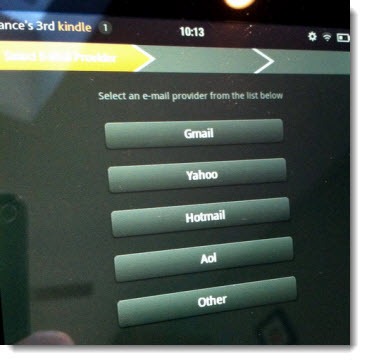 While we're talking about the Kindle Fire, it's worth noting one strange omission: the Kindle Fire does not have a built-in connection to Exchange mailboxes. The picture on the left shows all the built-in mail connectors: Gmail, Yahoo, Hotmail, AOL, and "other" (which covers POP3 and IMAP accounts). Where's Exchange? (Or, as it's quaintly known on Motorola Android phones, "Corporate.")
Under the hood, a Kindle Fire is running a highly customized version of Google's Android operating system. Android has always supported ActiveSync, the engine that drives the process of syncing with an Exchange mailbox. All Android phones and tablets can connect to an Exchange mailbox and sync mail, calendar, and contacts. I can't find any explanation of why it was stripped out of the Kindle Fire.
It's possible to imagine that Amazon has no interest in breaking into the enterprise market, where Exchange has become a de facto standard, especially now that RIM and Blackberry are rapidly imploding. That doesn't really match the reality, though. Kindle Fires will turn up in enterprises just like all the other smartphones and tablets that were originally intended to be "consumer" devices. Meanwhile, Exchange has been widely used in small and medium businesses for almost a decade, starting with the widespread adoption of Microsoft Small Business Server 2003 and continuing now with the successful rollout of the Office 365 hosted Exchange service. (Microsoft claimed today that more than 90 percent of early Office 365 subscribers are small businesses.)
There is a workaround – a pretty good one, actually. NitroDesk has redesigned its inexpensive TouchDown app to run beautifully on the Kindle Fire and provide full ActiveSync support for syncing mail, contacts, calendar and tasks. The web site with all the details is here. Install a free 30-day trial from the Amazon store, then buy a separate license key for $19.99 after you're sure it works. (At the moment it's on sale for $12.99.) It's got a clean interface that works particularly well in landscape mode for two-column mail previews.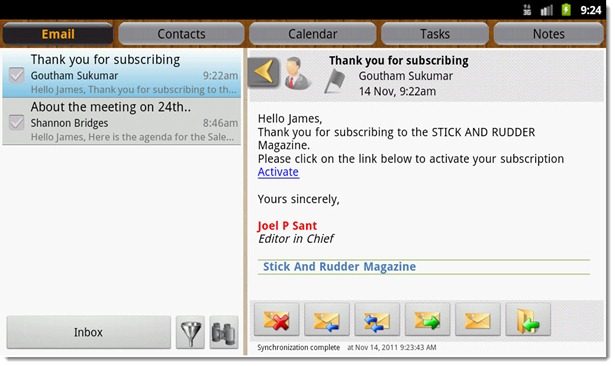 I have some previous experience with TouchDown because its Tasks can be configured to match the way I use the powerful customization of Outlook tasks described by Michael Linenberger. TouchDown is a solid program and has been given a nice facelift for the Kindle Fire. It has all the security features of a built-in ActiveSync client, including the ability to do a remote wipe of the mailbox on a lost device if the Exchange Server supports it. Important: Follow the instructions on the TouchDown web site to install and configure it!
---
One other quick Kindle Fire note: Amazon quietly delivered an over-the-air update to all Kindle Fire owners today, bringing the Kindle Fire OS to version 6.2. No specific information was released about what the update includes; Amazon's statement says only that it "provides improvements to the operation of your Kindle Fire." Wouldn't it be lovely if it helped resolve the wireless connection problems that some people are having? No information forthcoming about that tonight one way or the other. You can only hope. Any Kindle Fire with a wi-fi connection will install the update automatically the first time it goes to sleep after downloading the update in the background. Perhaps it's telling that the Amazon support page has detailed instructions about how to install the update through a computer for people whose Kindle Fires aren't connected to a wi-fi network.