A few days ago Microsoft launched Answer Desk with little fanfare – no press release, just a new web site (www.answerdesk.com) offering live technical support for Windows and Office, plus PC tuneups, virus removal, and software training – 24×7, 365 days/year.
It might be your new best friend, it might disappear without a trace. Either way, it illustrates some interesting things about your changing relationship to technology and the evolving role of an IT consultant.
What is Microsoft Answer Desk?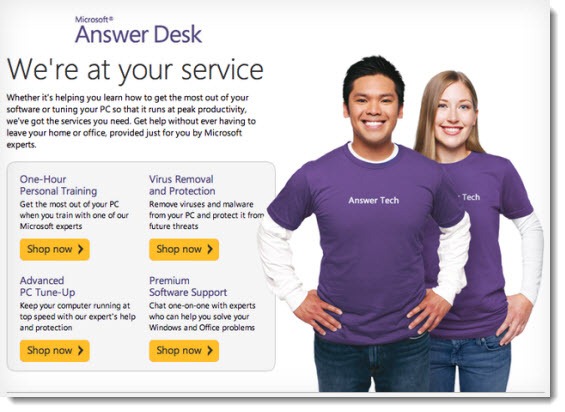 When you start a session from the Answer Desk web site, Microsoft will connect you with an "Answer Tech" for free basic troubleshooting and diagnosis. If your problem can't be resolved quickly, you can sign up for a paid session in one of four broad categories: PC tuneup, virus protection and removal, an hour of personal training in various Microsoft programs, and "premium software support" for a wide variety of difficult problems. Personal training is $49/hour, each of the others is $99 for what would normally be expected to be an hour of assistance.
With your permission, the Microsoft tech will connect remotely to your computer using LogMeIn Rescue (the same secure support tool that I use when you push the "Remote Support" button on the Bruceb.com website).
The service is intended to be personal and friendly. You're invited to browse a list of available techs and look at photos, qualifications, and customer feedback before you choose a specific person to take your call. Each tech's page has the comforting tag line, "Relax. We're going to take care of you." Once you have a relationship with a tech, you'll be able to work with the same tech the next time you need help.

There's an FAQ with all the details here.
It's worth emphasizing that some routine questions are answered for free. A PC World columnist had this experience: "In an informal test of the service an Answer Desk technician spent about 30 minutes with me helping solve Word 2007 formatting issues and also helped with resolving a problem I was having with burning data CDs – no charge. . . . I'm impressed."
This is an online version of the service that Microsoft has been offering at the handful of Microsoft Store outlets across the country. It's obviously meant to be a response to Apple's in-store Genius Bars, which have had a profound influence on people's favorable opinion of Apple devices.
This could be a great way for you to get questions answered and deal with a wide variety of day to day problems. Apple's ascendancy in a world driven by mobile device and tablets has Microsoft shaken and it may feel it needs to do a better job with support to remain competitive. That gives it a powerful incentive to do this right and give you a better experience than you expect. My personal experience is with higher-level Microsoft support; at that level Microsoft support is awesome. Those guys deeply know what they're doing and they simply do not give up until a problem is solved. You can hope that you'll get that kind of service from Answer Desk.
One of my jobs is to help you get your technology problems solved in the quickest and most economical way possible. For certain kinds of problems, this might be the way.
In the next article, I'll tell you more about how this looks from my side of the curtain. PC tuneup, virus removal – these are, after all, exactly the problems that I have traditionally taken care of for you. There are some seismic forces at work shaking the ground under the feet of IT consultants!