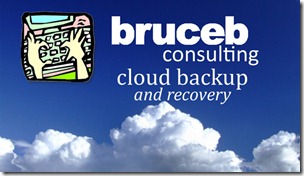 We're all busy. Life is full of choices about what deserves attention and what should be passed off to someone else.
The Bruceb Cloud Backup service is managed and monitored. When you sign up for Bruceb Cloud Backup, I watch your backups remotely. If there's a problem, I fix it. You get to take an important chore off your mental checklist because you know it's on mine.
There are cheaper backup services. Carbonite and Mozy are both promoting "business" backup plans that use all the right buzzwords – and who knows, they might work well enough to get you through a jam. If you try one of those services, you'll have to keep an eye on it and make sure the backups keep working and nobody accidentally turns them off. You might have to tweak the settings to keep the software from slowing your computer down or choking off all your bandwidth. You should probably do a test every once in a while and make sure you can restore files when necessary.
When I tried MozyPro a few years ago, this was my experience:
"Pricing is reasonable. The web interface is streamlined. What's not to like?

"Well, I found it a little troubling that it didn't work, despite my best efforts. Dropped connections, a period of several days where it simply did nothing, and "success" reports where no files appeared to have been transferred."
Maybe it's gotten better. Are you feeling lucky?
You'll have more peace of mind with Bruceb Cloud Backup. I monitor your backups and alert you if they're not taking place on schedule. If you're also signed up for my Remote Management service, I'll remotely connect and fix the problem without any fuss.
You'll also get unlimited support, whether you want ideas about organizing your files and deciding what to back up, or you want help restoring files. All software can develop problems; I'll be watching to make sure your backup software keeps working.
The software that runs on your computer is lightweight and easy to use. It won't bog down your computer or disturb your work.
The company that runs the service has two secure data centers geographically distant from each other, minimizing any chance of data loss after a natural disaster.
I want Bruceb Cloud Backup to be the most secure online backup service that you can choose. You won't have to worry about unexpected issues, or have the lingering fear that your backups aren't working. It costs more to get that peace of mind. I'll try hard to make it worthwhile.
Give me a call or drop me a line if I can answer any questions!