A few days before Christmas, Microsoft delivered the "Office 365 Integration Module for Small Business Server 2011 Essentials," a long awaited add-in that integrates Microsoft's new server software for very small offices with its hosted Office 365 service.
In some respects this is what SBS 2011 Essentials should have included all along, and the combination is a compelling choice for many very small offices considering their first onsite server or a replacement for an aging Small Business Server 2003 tower. You'll find a full description of Small Business Server 2011 Essentials here:
Separately, the two products are already compelling choices for small businesses. SBS 2011 Essentials brings simplified controls and smooth remote access to businesses with less than 25 users. Office 365 provides secure cloud-based Exchange mail.
When the Office 365 Integration Module is installed into SBS 2011 Essentials, three things are changed:
The big one: each person only has one password. The server and Office 365 passwords are synchronized behind the scenes. The same password works to log into the office computer and to log into Outlook Web Access for webmail.
Behind the scenes, administrators can provision users with their user account on the network and their Office 365 account for mail in a single operation using a single control panel.

The portal seen by the users includes links into their Outlook mailbox in addition to the links to their office computers and files on the server.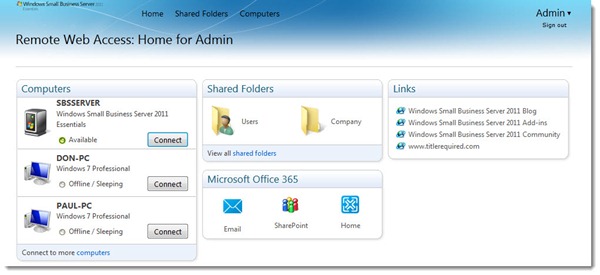 The most interesting things added by the Office 365 Integration Module are reserved for administrators, who get integrated controls for a variety of housekeeping chores: creating an Office 365 subscription for a business, activating and deactivating user accounts and subscriptions, and more.
Users will simply see an integrated experience that feels completely natural. One web site (http://remote.businessname.com) will provide access to mail and files and onsite computers, and one password will suffice for all purposes.
This is the second significant add-in for SBS 2011 Essentials. Last fall Microsoft released the "Windows 7 Professional Pack for SBS 2011 Essentials", which provides simplified controls for folder redirection and offline files on Windows 7 computers joined to the domain. It's now shipped as a standard piece of SBS 2011 Essentials. I'd guess that the Office 365 Integration Module will soon be absorbed into the shipping version of SBS 2011 Essentials as well. It's a natural addition.
The combination of SBS 2011 Essentials and Office 365 is ideal for many small businesses. You'll still need help from an experienced, yet humble, consultant to determine whether this is a good fit for your business and to get past the initial pitfalls. These products are simplified but not simple, especially during setup. Give me a call if you're interested in finding out more!