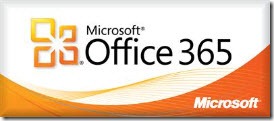 Small businesses and law firms are finding that Microsoft's Exchange mailboxes hosted by Office 365 are secure and stable. One of the best features is the improved experience with Outlook Web App, webmail that has been designed to have as much of the look and functionality of Outlook as possible.
("Outlook Web App" used to be called "Outlook Web Access". The name was changed for Office 365 and Exchange 2010 because Microsoft hates continuity. I assume they kept the acronym "OWA" so they wouldn't have to change the monograms on the towels.)
New Office 365 subscribers run into two small things about Outlook Web App that deserve to be pointed out.
---
TIME ZONE
The first time a new Office 365 subscriber visits Outlook Web App, it sets the time zone for that user. By default, it offers to set the time zone to Reykjavik, Iceland. For some reason people find that strange.
It turns out that Reykjavik is in the time zone referred to as "Greenwich Mean Time (GMT)." It's the center of the time world. In time circles, all other zones are referred to by the hours before or after GMT. Here in California, Pacific Time is UTC -08:00, meaning our clock is eight hours ahead of GMT.
Once you set the time zone the first time, it won't ask again.
---
VIEW EMAIL MESSAGES BY CONVERSATION
Most Outlook users arrange their Inbox to show all incoming messages individually arranged in chronological order.
By default, Office 365 displays messages sorted by conversation when you first open Outlook Web App. It's disconcerting if you don't know what's going on.
"Conversation view" gathers all related messages from your mailbox and groups them together so the group can be expanded or collapsed. If you've been engaged in a lengthy series of messages back and forth with the subject, "Meeting on April 12 re Important Project With Unique Name," you'll have all the messages in one place – incoming messages, your replies, replies from other people. When a new message is received, the whole conversation moves to the top of your Inbox. It can be very convenient.
Google Gmail users became used to threaded conversations a long time ago. It was the default view in Gmail and continues to be the way most Gmail users view their mailboxes.
Outlook 2010 polished up Conversation View and it's easy to toggle back and forth once you know it's there.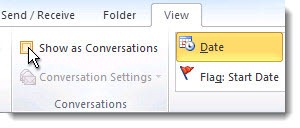 Outlook Web App sorts your messages by conversation by default. If you don't know that, then it looks like messages are missing.
Here's what my Inbox looks like when Outlook Web App opens for the first time with messages sorted by conversation.

The little arrow to the left of the first message means there are multiple messages in that thread. Clicking on it exposes a list of messages with the subject, "Invoice from Autotask."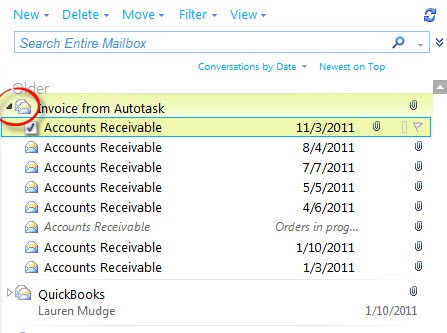 Clicking at the top of the column on "Conversations by Date" brings down a menu. Conversation view is turned on and off with a checkmark by "Conversation" at the bottom of the list.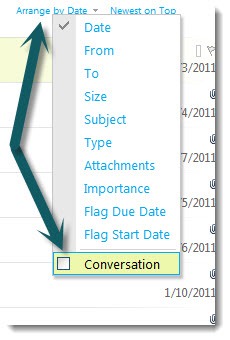 If you're not using Office 365, give me a call! Running your mail on hosted Microsoft Exchange servers gives you complete flexibility in your choice of computers, tablets and phones for a few dollars a month, and transfers the ongoing responsibility for management and maintenance to Microsoft, where it belongs.