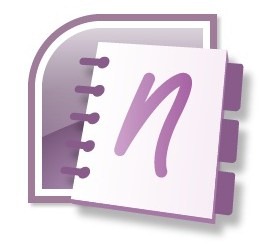 Every time I write about Microsoft OneNote, it seems appropriate to introduce it to people who aren't yet familiar with it. I'll repeat the overview from my previous articles about OneNote, then give you some tips and tricks that turned up recently.
---
OVERVIEW
Microsoft OneNote 2010 collects information on the fly from any source you can imagine, and helps you find it again later when you need it. That's any information. OneNote can hold your grocery list as easily as your research or trial preparation. Saving a web page is as easy as right-clicking the page and clicking on "Send to OneNote."
OneNote is designed for its notebooks to be stored online in Microsoft's Skydrive service. When you link to your online OneNote notebooks from different computers or mobile devices, the program syncs everything instantly and seamlessly.
Microsoft OneNote 2010 is included with every edition of Microsoft Office. It deserves time spent learning how to use it – visit the Microsoft web site and spend time with introductory videos and descriptions, or take one of Lynda.com's courses.
---
RECYCLE BIN
OneNote is elegantly designed. You might need to spend a few minutes discovering the way to do something in OneNote but the answers frequently turn out to be very satisfying.
When crack web programmer Andrew Berls asked me how to recover an inadvertently deleted page from a OneNote notebook, I was stumped. It took me a few minutes to discover the button on the Share ribbon. OneNote maintains its own Recycle Bin where deleted pages and sections are kept for sixty days.

---
PAGE VERSIONS
The discovery of the Notebook Recycle Bin drew attention to the button next to it. OneNote keeps track of every edit to a page and saves previous versions. You can display a generous number of previous versions of a page by clicking the Page Versions button. Each edit on previous versions is highlighted by date and author.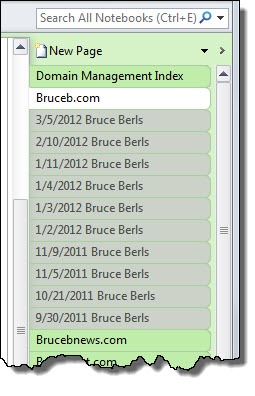 ---
MULTIPLE WINDOWS
OneNote is usually run in a single window, like Outlook, but it can be run in multiple windows to compare notes side by side or work in many different notes simultaneously. Hit Ctrl-M to open another OneNote window. That's it! It's a simple trick that I just learned and it makes all the difference in maneuvering around for different projects.
[Reminder for Outlook users: you can run Outlook in multiple windows and have Mail, Contacts and Calendar all onscreen simultaneously. This article has the info you need.]
---
RESEARCH
A OneNote feature that is so odd that it has to be mentioned.
Point to a word on a OneNote page, hold the Alt key down and left-click once on the word.
A panel will open on the right with definitions of the word from Bing. There is a dropdown menu with a selection of dictionaries, thesauri, and reference sites. (Since I wasn't sure about the plural, I used OneNote to look up "thesauri" in an online dictionari.)
It's pointless but I find it endearing.