Previously: The Future Of Microsoft Office On Tablets And Online
OFFICE WEB APPS
Two years ago Microsoft introduced Office Web Apps, online versions of Word, Excel, Powerpoint and OneNote that can be used entirely inside a web browser. If you set up Skydrive on your computer and store files in your Skydrive folder, you can use Office Web Apps to edit the files in a web browser from any computer and find the updated files waiting for you when you next sit at your computer.
Windows 8 devices – computers, tablets, phones – will all feature built-in easy access to your files in Skydrive. If you're on your own computer, the files might be stored on the local hard drive and you can edit them in the copy of Word installed on the computer. On your Windows 8 tablet, you'll have access to the synced copies stored online and you can edit them in the lightweight Word app built into the tablet. On a hotel computer, you can edit them in the online Word Web App. That's immediate and consistent access to your files and Office programs to work with them from any device, anywhere. It's a powerful vision! If Microsoft carries it off successfully, it could hold off Google's onslaught and cement Office's place at the center of the business world for another generation.
First there is some angst to deal with. Remember, almost half of Microsoft's profits currently come from copies of Office installed on hundreds of millions of computers around the world. The calculations become very complex for Office Web Apps. If the online apps are cheap or free and they're really good, many people will use the online apps instead of buying licenses for the full version of Office. There are serious long-term financial consequences if a lot of people begin to use full-featured web apps for free.
On the other hand, the future is not very bright if Microsoft's online apps aren't very good or if Microsoft tries to lock them up behind too high a paywall. Google makes its money from advertising; its (terrible) web apps will always be available cheaply or for free. To compete, Microsoft has to make Office programs available on all the devices people use – not just smartphones and tablets but also computers that may not have Office installed. And it has to do it at a price that is far below the traditional hundreds of dollars for the desktop Office suite.
Perhaps that's why the Office Web Apps have been paralyzed since their introduction. The feature set is essentially unchanged since June 2010. There are noticeable weaknesses in the apps. Microsoft's commitment has been half-hearted. My guess is that battles are raging in the corporate halls of Microsoft among people who simply cannot decide what to do.
Here's an example of the schizophrenia that grips Microsoft – a comparison of Skydrive users with subscribers to Microsoft's Office 365 service.
---
SKYDRIVE  If you install the Skydrive client on your computer, you will have a special folder that is synced with Skydrive online. Log into the Skydrive web site and you can click on any of the Word/Excel/Powerpoint files in your Skydrive folders and view them in your web browser in Office Web Apps.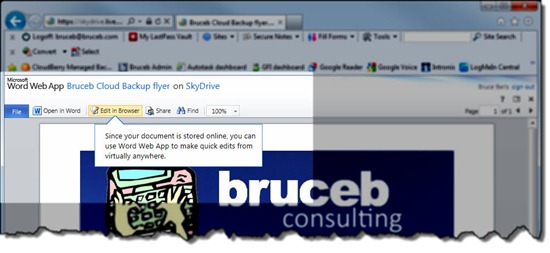 When you click on the button "Edit In Browser", the full web app is launched, with a simplified but familiar version of the Office 2010 ribbons.
Skydrive users can edit files online in Office Web Apps for free.
---
OFFICE 365  Some Office 365 plans include access to a hosted Sharepoint portal which can be used, among other things, for online document libraries. Office documents stored in Sharepoint Online can be opened directly from Office 2010 programs on your computer as well as being accessible online.
Paid subscribers to the less expensive Office 365 Sharepoint plans cannot edit documents online in Office Web Apps. They can view their documents but the "Edit In Browser" button disappears. Take a look at the highlighted footnote in the plan descriptions: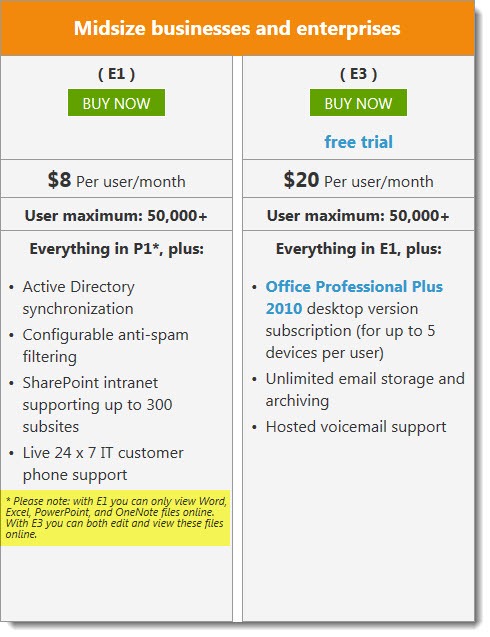 The footnote says: "Please note: with E1 you can only view Word, Excel, Powerpoint, and OneNote files online. With E3 you can both edit and view these files online."
If you are an Office 365 subscriber and want to order Sharepoint separately instead of getting one of the Enterprise packages, it becomes very clear that Office Web Apps are an extra cost item.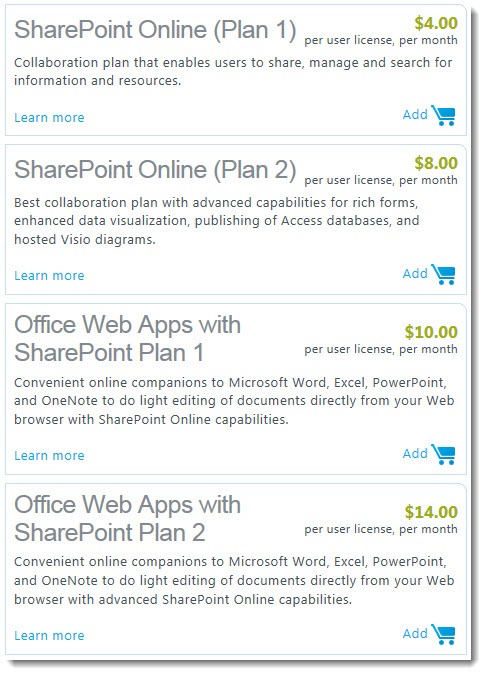 Small businesses already face significant hurdles when they consider adopting Sharepoint. Adding a $6/user monthly charge to be able to edit files online is a significant disincentive that might keep businesses from using Sharepoint at all.
There's no conclusion here, other than to expect changes in Office Web Apps leading up to the release of Windows 8. With some adjustments to the apps and to the pricing, Microsoft has a way forward to make Office as ubiquitous in the post-PC world as it has been in the PC world.
In the next article I'll give you a brief example of why I keep referring to "weaknesses" in Office Web Apps.