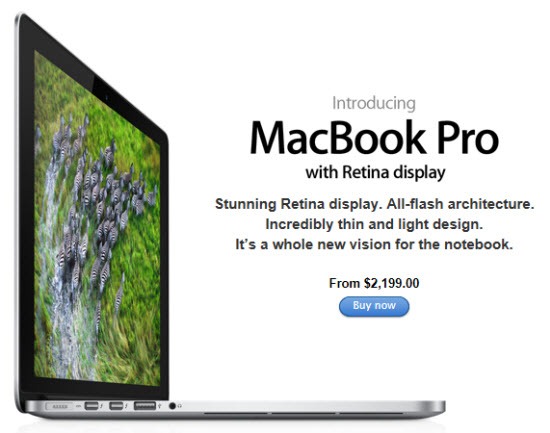 Apple introduced updated notebooks at the Worldwide Developer Conference this week, with much fanfare and media hubbub – and surprisingly little substance.
The highlight is the 15" "MacBook Pro with Retina display," which follows the "new iPad" in demonstrating that Apple has completely lost its way in product branding. The MacBook Pro has a very high resolution display, a speedy processor, a solid state hard drive (SSD), a slightly slimmer profile, and a price tag that is unexpectedly high even for Apple. The two models of MacBook Pro with Retina display are $2,200 and $2,800, respectively, with the usual add-ons to push the price even further up – a thirty dollar adapter to connect the notebook to a monitor (or a hundred dollars to drive dual monitors), another thirty dollars for an adapter to connect an Ethernet cable, and so on.
It is undoubtedly an impressive computer. It ought to be for $2,200! It's an unabashed return to the days of the "Apple premium," when Apple users understood that they were paying far more than PC users for comparable hardware with an overlay of Apple coolness.
Apple did not announce anything else interesting.
MacBook Pro and MacBook Air  All of Apple's notebooks are now built with Intel's Ivy Bridge chip set, the same processor that will be powering Ultrabooks and most other Windows notebooks going forward. That's a welcome speed boost for the MacBook Air notebooks but it is also the only meaningful change for the MacBook Air and MacBook Pro. The form factors are unchanged for the MacBook Air and non-Retina MacBook Pro.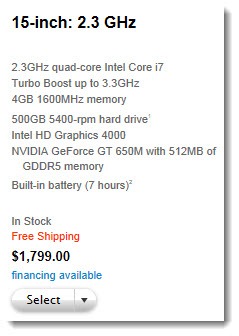 The non-Retina MacBook Pro models are stocked by default with one option that is unworthy of Apple: each one is built with a conventional hard drive that spins at 5400RPM. That's a terrible choice that hobbles the performance of the notebooks. The hard drive in your desktop computer (and most current laptops) spins at 7200RPM. You shouldn't see a 5400RPm hard drive in anything other than a bargain basement $500 notebook from Walmart. A faster processor cannot overcome the delays of a slow hard drive.
Each of the MacBook Pro models can be upgraded to a 256Gb solid state drive for $500, another shockingly aggressive Apple premium price for drives that are selling at retail for $200-$300.
Mac Pro  Apple's announcements were interesting because of the things that were not said.
There will be no update for the Mac Pro desktop computer this year. Under pressure after the conference, Apple CEO Tim Cook reportedly sent an email promising "something really great for later next year."
Similarly there was nothing said about the iMac or Mac Mini.
There was dead silence about the rumored relaunch of Apple TV.
The next generation iPhone will be announced later this year.
iOS 6  What Apple is doing brilliantly is improving its walled garden, the ecosystem that locks you into Apple products because they work so well together. Its products and services are working together with each other at a very high level and the next version of the mobile operating system promises a wealth of improvements. Syncing and sharing, seamless transfers from phone to tablet to computer, Facebook integration, continued improvements in Siri (including a dedicated button on the steering wheel in some new cars) – it's a very beautiful garden! Google's efforts are feeble by comparison and Microsoft has to jump very high with Windows 8 to clear the bar that Apple keeps raising.