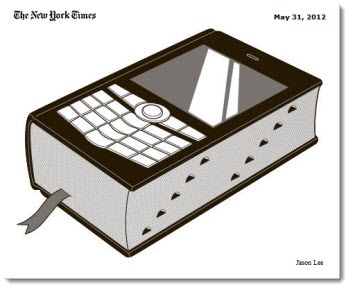 A few days ago the New York Times ran two articles that might be helpful to you if you feel like you're adrift in the technology sea.
A Guide to Deciphering the Language of Smartphones covers the most important (and confusing) acronyms and concepts in the phone world. There are explanations in plain English of basic terms like "wi-fi" and "apps", as well as some recent jargon introduced by the carriers – "tiered plan," "CDMA vs. GSM."
Here's a sample:
"3G, 4G, WIMAX, HSPA+ These may be the most confusing terms because there is a lot of marketing mystery around them. The G stands for generation. The higher the number next to the G, the newer, and presumably faster, is the network the device is using. (To make things even more confusing, when Apple calls a product 4G, that means it is the fourth generation of that device, but not necessarily that it works on a 4G network, although sometimes it does.) . . .

"There are big caveats. One is, not every city has 4G from every carrier. Another is that you need a phone that receives the 4G network, and not all do. But most of all, the speed of a network doesn't matter if you can't get a signal. First, find which carrier has the strongest signal where you use your phone most. (There is a RootMetrics map you can check, and you can ask neighbors about their experiences.) Choose the fastest network with good reception in your price range."
---

Books Under Glass: The Many Faces of E-Readers gives you an overview of the rapidly growing market for e-books and e-readers. It begins: "If you are still content to read the latest Stephen King novel in its full five-pounds-of-paper glory, get ready to rethink your habits." I just finished 11/22/63 and I can tell you two things about it: (1) it's marvelous, one of the best things Stephen King has written in years, with a surprisingly sweet love story at its heart; and (2) it is a very convincing reason to get a Kindle.
The article will help you understand the product lines from the main players, Amazon and Barnes & Noble. Here's how it describes the Amazon line of Kindles, for example.
"Some of the most popular e-readers come from Amazon, which makes the Kindle. The Kindle family consists of a number of touch-screen E Ink readers, one large-format reader called the Kindle DX, and the tabletlike Kindle Fire, which allows you to view movies and listen to music on a bright 7-inch screen.

"The cheapest model, at $80, downloads books over Wi-Fi networks and features "special offers" — advertisements — that pop up when you are not reading a book. The next version, the 6-inch Kindle Touch, costs $99 with ads and $139 without. The Touch can connect to Wi-Fi networks and 3G wireless networks internationally, which means you can buy books on the beach in a number of foreign locales.

"The Kindle Touch has a touch screen and supports on-screen text entry. Another model, the $140 Kindle Keyboard, has real keys, while the extra large Kindle DX has a 9.7-inch screen for people with poor eyesight or who prefer a bit more reading real estate.

"Finally, there is the $200 Kindle Fire. This model looks and acts like a small Android tablet, and it has a 7-inch multitouch LCD screen. This model supports Amazon's movie sales and rental system (as well as free movie rentals through Amazon Prime) and photo and illustrated book browsing. Think of it as a slightly underpowered tablet PC that can, in fact, play Angry Birds."
The article also touches on the various e-readers from Sony, Apple, and more. In addition to all the other considerations, it's worth noting that Amazon is far ahead of the other e-book vendors in making your library available on all platforms. You can read anything in your Kindle library on any computer, tablet, or phone just as easily as on your Kindle. (Barnes & Noble is not far behind and its e-readers look nice. If you are going to choose between Amazon and Barnes & Noble to host your library for decades to come, well – Barnes & Noble pays a lot of rent for stores that sell books on paper and Amazon doesn't. Who do you think has a better chance to survive?)
I've got the latest volume of Robert Caro's biography of Lyndon Johnson on the shelf of my Kindle library, iinstead of buying the five-pound hardcover for the regular bookshelf. The Kindle edition hardly weighs anything. I'm a bibliophile from way back so I hate to admit it but I think I'll enjoy it more on the iPad than if I was trying to balance the book on my lap.