The market for Windows notebooks has begun its transition to new models built on Intel's Ivy Bridge processors. New products are appearing daily and older models are being upgraded or replaced. Since shopping is a little confusing right now, I'll try to give you the short course about what you're looking for.
---
WHY YOU WANT IVY BRIDGE
If you're buying a new notebook, you want the Ivy Bridge chipset. It is more powerful than the previous generation of Sandy Bridge processors but that's not very important – you don't use more than a tiny fraction of the power in any of these processors. These are the four things that are important about Ivy Bridge in a notebook:
POWER CONSUMPTION The notebook versions use less power than ever before. They'll work together with the improvements in power consumption in Windows 7 to provide dramatically improved battery life.
SIZE Ivy Bridge processors are smaller and thinner, part of what's driving the new lighter, slimmer notebook designs – especially the paper-thin three-pound Ultrabooks.
USB 3.0 USB 3.0 support is built-in. The faster version of USB will become standard in new external hard drives and other USB devices in the next year or so.
GRAPHICS The higher-end Ivy Bridge processors have built-in graphics that are almost at the level of the dedicated video cards used by gamers. You might not play games but the graphics processing will serve you well even for mundane things like streaming movies or working with pictures and video. If you want to take advantage of the graphics improvements, look for references to Intel HD 4000 video on your next laptop. There's nothing wrong with the Intel HD 2500 graphics on the lower end Ivy Bridge processors but the real performance comes one step up.
More details about the Ivy Bridge processors here.
There's nothing wrong with the previous generation of processors. If you can get a sweet deal as the manufacturers clear their shelves to make room for Ivy Bridge notebooks, you might want to do that. But make no mistake, this is a complete turnover of the market. You'll be buying last year's model to save a buck. That's never been a very good strategy in this industry.
---
HOW TO IDENTIFY IVY BRIDGE
Intel's naming schemes have always been opaque. The ads won't say "Ivy Bridge." Until the market is completely refreshed, you'll have to do a bit of detective work to tell which models have the new processors.
Example: this is Dell's small business Ultrabook page today. (It will be different tomorrow. Models and features are being updated constantly.)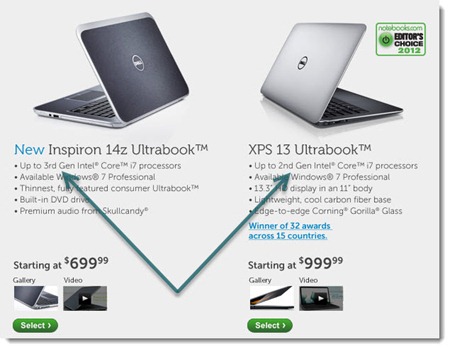 Clue number 1: Ivy Bridge processors are identified as 3rd generation.
You can see on the Dell page that the Inspiron 14z Ultrabook has been upgraded to Ivy Bridge – "3rd Gen Intel Core i7 processors". (The Inspiron 14z is a very appealing Ultrabook! One of my current favorites.) The XPS 13 Ultrabook has not yet been refreshed with the new processors. It's also quite a nice notebook but I'd suggest waiting to buy one until the updated model is available – expected any time but no confirmed date yet.
Now look at the processor numbers in the landing page for the Inspiron 14z notebooks.
Clue number 2: Ivy Bridge processors have identifying numbers that begin with "3".
The least expensive Inspiron 14z has an Intel Core i3-2367M processor. That's the older generation.
The next model up has the Intel Core i5-3317u processor. That's an Ivy Bridge processor.
There are various Ivy Bridge processors, both Core i5 and Core i7. As long as the next number starts with 3xxx, you're getting the right thing.
(Confusing footnote: the naming scheme only works up to 37xx. The 38xx and 39xx processors are Sandy Bridge. That's because Intel hates consumers.)
The notebook market is a blur right now. If you want to buy something this week, look at the Dell Inspiron 14z and the Lenovo IdeaPad U410. There are many more Ivy Bridge notebooks already available and lots more in the pipeline. Happy shopping!