Adobe made significant changes to the user interface of Acrobat X, the current version of the widely-used program for creating and sharing professional-level PDF files. Like many design changes, the new layout is jarring for people familiar with Acrobat 8 and 9 but most of it works well after you become familiar with it.
Acrobat 8 and 9 had a typewriter tool that made it easy to add text to a PDF – click the typewriter tool button, click in the document, and start typing.
The typewriter tool is still there in Acrobat X but it's been moved and renamed. I've discovered that even long-time Acrobat users don't always know how easy it is to type extra text in a PDF.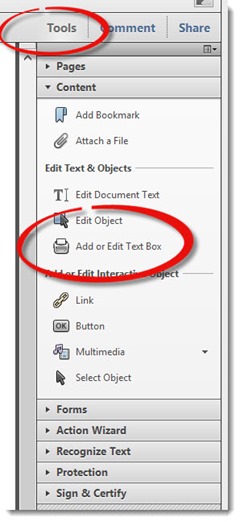 TYPING IN A PDF – ACROBAT X
To type directly in a PDF in Acrobat X, click on Tools –> Content –> Add or Edit Text Box.
You can click in the body of the PDF and begin typing immediately. Despite the name, you're not required to draw a box first.
ACROBAT, NOT ADOBE READER
There is no typewriter tool in Adobe Reader, the free PDF viewer that many people use to display PDFs. You can only type in a PDF with Acrobat X, the full program from Adobe that creates PDFs and provides hundreds of ways to manipulate them.
Technical note: There is an exception. If a PDF has been specially prepared ahead of time, you might be able to type in it using Adobe Reader. One way is well known and widely used: forms can be set up so you can type in predefined blanks in Adobe Reader. It's less well known that any PDF can be set up to allow typing in Adobe Reader but only if a very precise sequence of steps is followed when the PDF is created in Acrobat: clicking on File / Save As / Reader Extended PDF / Enable Adding Text in Documents. You won't run into those very often.

ADD A TYPEWRITER BUTTON TO YOUR TOOLBAR
Right-click on Add or Edit Text Box and click on Add to Quick Tools. A typewriter button will be added to the icons at the top of the program.

CHANGE TEXT WITH THE TYPEWRITER TOOLBAR
When you click on Add or Edit Text Box, the Typewriter Toolbar should appear onscreen. You can highlight all or part of your typed text and change font, font size, font color, and line spacing.

FORCE THE TYPEWRITER TOOLBAR TO DISPLAY
A number of people discover that the Typewriter Toolbar does not appear when they click on Add or Edit Text Box. It's possible to type but not to change the font or color. You can see complaints from people having trouble with this in the comments here and here.
Sometimes (but not always) the toolbar will appear if you hit Ctrl-E while the cursor is in the document where you are typing text. Try highlighting all of the text, then hitting Ctrl-E; or click just off the letters in the text so the words are framed by the text box handles, then hit Ctrl-E.
If you only get a "Properties" box with no buttons for changing the font after you hit Ctrl-E, click around a bit more but be prepared to try repairing your Acrobat installation in Control Panel / Uninstall a program. Highlight Adobe Acrobat X, click on Change, and take the Repair option. It worked for me.
Happy typing!