With a Microsoft press event in New York followed by crowds filling Times Square at midnight, Windows 8 is now available to everyone, sold with new computers as well as appearing for the first time on tablets and hybrid notebooks with detachable keyboards.
You'll hear about the disruptive changes, of course, the missing Start button and the new moves that are better suited to touchscreens than keyboard and mouse. That's not all! Windows 8 improves on Windows 7 in important ways for desktop users, too. It starts faster and runs faster, it's more secure, it uses less power, it has an improved interface for File Explorer and Task Manager, there is effective built-in version control in File History, and much more.
Paul Allen, co-founder of Microsoft, wrote an insightful article about Windows 8 that covers his overall feelings (positive but with some mixed emotions about particular features) as well as describing many of the specific changes in the new OS. If you're considering Windows 8 for yourself, his article is a great place to start.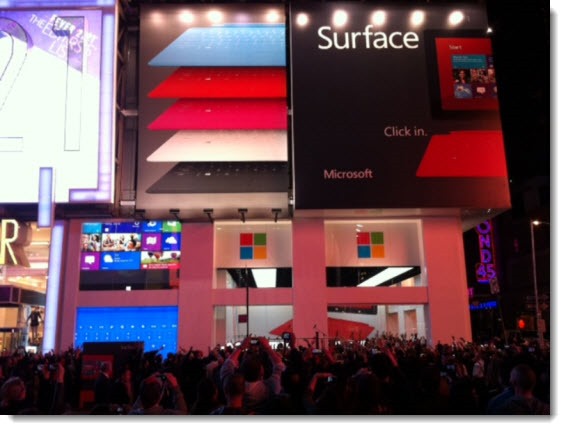 Many of you should be looking hard at the Windows 8 tablets and hybrid notebooks for your first exposure to Windows 8. iPads and Android tablets are consumption devices – great for consuming content, not great at all for doing real work. Windows 8 tablets will also be good for consuming content (videos, books, Internet browsing) but they are equipped to be productivity devices as well, giving you access to real versions of Word/Excel/Powerpoint using a real keyboard. A Windows 8 tablet might substitute for a notebook on some trips out of the office. An iPad can't do that.
The first Microsoft Surface tablet is built on Windows RT, which will run new apps but will not run any Windows 7 programs other than rewritten versions of Word, Excel & Powerpoint. Developers are writing new versions of their programs for the Windows RT tablets but the Windows 8 Store has a thin selection of apps today. It will likely grow quickly but it may never be as fully stocked as the Apple store.
There will also be tablets built on Intel processors running the full version of Windows 8, capable of running any and all traditional Windows programs. These will be more familiar, perhaps more comfortable, for longtime Windows users because they are essentially notebook computers in a new form factor, with a small touchscreen and detachable keyboard. They will also be more expensive than the Windows RT tablets and it might turn out that you don't really want to run traditional Windows programs on a ten inch screen. Lenovo's Thinkpad Tablet 2 looks like the premier example of a desirable Windows 8 Pro tablet, but prices have not yet been posted this evening, making it hard to evaluate.
Personally, I'm liking Windows 8 more and more every day as I become more familiar with it. I'm going to stay in the Microsoft walled garden for simplicity. That means I could uninstall XMarks, the utility that syncs Internet favorites, because Windows 8 syncs Favorites to Internet Explorer on all my Windows 8 devices. I took off DisplayFusion, the utility that manages wallpaper on dual monitors in Windows 7, because Windows 8 handles dual monitor wallpaper nicely. Take a look at the improved online gallery for personalizing Windows 7 and 8, by the way – it's gorgeous, a good example of Microsoft's simple and appealing new design aesthetic.
When I get my Surface tablet on Friday, I'll put in my name and password. When Surface starts up, it will have my Internet favorites, my files, my pictures, my wallpaper on the desktop, my mail, my contacts, and my calendar. Netflix will know where I left off in Breaking Bad. The Kindle app will take me to the last page I read in Robert Caro's The Passage Of Power. I'll have the same experience regardless of whether I'm sitting at my desk, working on the Thinkpad notebook, or picking up the Surface. Then the test: will the apps available for the Surface RT be sufficient or will I wish I had gotten a Windows 8 Pro tablet that can run other Windows programs? I don't know yet.
It's good stuff. Keep your eyes open! You might have some Xmas shopping to do.