Windows 8 was introduced at the end of October. Although Microsoft claims to have sold 60 million Windows 8 licenses since then, it's generally conceded that sales have been slower than anticipated.
There are several reasons for the slow start. Computer manufacturers bear some of the responsibility.
The computer era is ending faster than expected. Sales are declining for desktop computers and traditional notebooks, while tablet sales skyrocket. You'll see articles blaming Windows 8 for not igniting the PC industry but that misses the point – it's a downward trend for desktop computers and notebooks that is going to continue regardless of the operating system.
The best evidence came in Apple's earnings report yesterday. Buried in the report was a startling drop in sales of Mac computers, 4.1 million in the recent quarter as compared to 5.2 million a year before. Apple's computer division is essentially a hobby for the company (its only meaningful business is selling tablets and phones) and it had nothing particularly new in the Mac lineup for the holidays, but that's still a surprising and dramatic drop. It goes along with the punishing drops that are being reported by Dell, HP, and others, as well as an overall drop in Intel's sales of PC processors and motherboards.
This isn't a decline in Windows PC sales; it's a decline in computer sales.
Manufacturers have acted as if Windows 8 was a surprise that caught them unprepared. They had promised new computers with touchscreens and imaginative form factors but failed to deliver in October – and we still don't have a wide selection three months later. Notebooks with touchscreens are few and far between. Many of the hybrid notebook/tablet devices are still only promises, due to show up Real Soon Now.
Even Microsoft is running late. The Surface Pro, Microsoft's premium no-compromises tablet-with-the-guts-of-a-notebook, will finally arrive on February 9. It's supposed to be surrounded by tablets from other manufacturers but they are mostly still missing from the shelves.
Manufacturers are undercutting Windows 8. Windows 8 has been on the market for nearly three months. Computer manufacturers blame it for stagnant sales and complain that it did not generate excitement in consumers.
I can't get this Dell shopping page out of my mind.
These are screenshots of sale pages for one of Dell's most attractive Ultrabooks, the Latitude E6430u – reasonably priced, thin and light, a nice balance of performance and features for business people. The front page has a photo of the Ultrabook showing off the Windows 8 Start screen.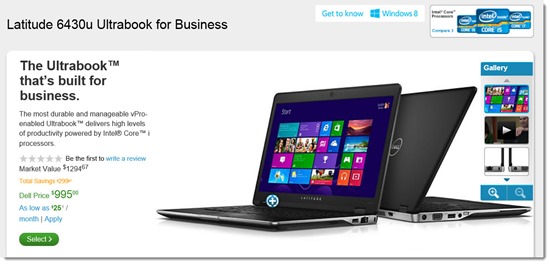 When you push the "Select" button, though, something strange happens. The screen shot below shows the Operating System choices – and all of a sudden Windows 8 has disappeared, to be replaced with a huge Windows 7 logo and eight versions of Windows 7 to choose from. The default is the 32-bit version of Windows 7 Professional.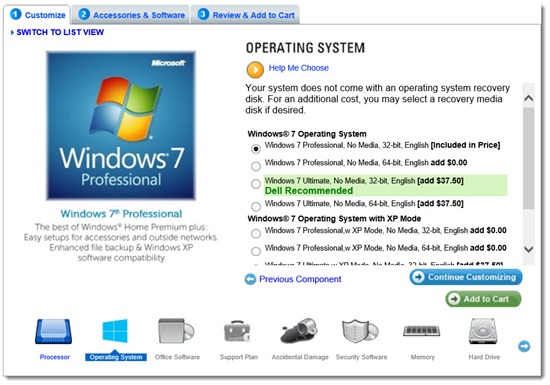 You have to scroll down to find the single, lonely entry for Windows 8 at the bottom of the list, hidden from view. It doesn't cost any more than Windows 7. Dell just doesn't care if you see it.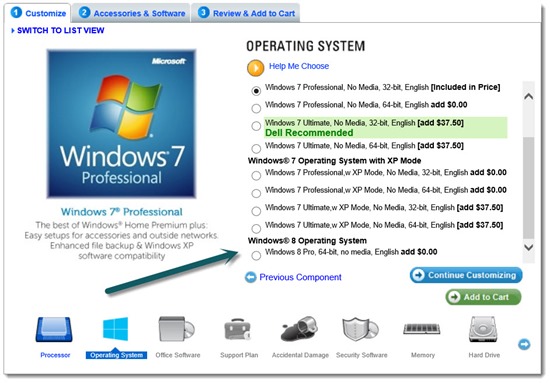 There are several other models of Dell business desktops and laptops that are sold the same way – with prominent attention to Windows 7 and Windows 8 relegated to afterthought status. HP's Home & Home Office Store has a selection of laptops and desktops set up with Windows 7 as the default choice as well.
Dell and HP presumably believe that they will sell more business computers by promoting Windows 7 because there is no demand for Windows 8. But that's short-sighted. We're in a transition and the best way to accelerate that transition is to promote it and help people get over their hesitation.
I can't escape the feeling that the manufacturers could be doing a lot more to develop and promote new products and help move us into the era of touch-enabled computing.