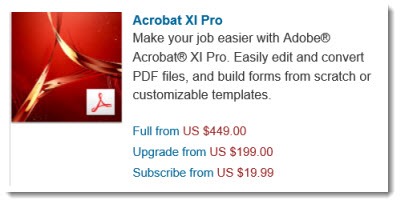 Adobe has never been shy about charging high prices for its products. Artists and designers have long struggled with the high cost of licenses for Photoshop, Illustrator, Dreamweaver, and other creative programs, and the $449 price tag for an Acrobat license has been a thorn in the side of small businesses for many years.
Adobe is moving towards subscription-based licensing, just as Microsoft is doing with Office 2013.
For the first time, Acrobat XI Pro can be licensed separately by subscription. Like the other Adobe programs, Acrobat is $19.99/month on an annual contract. If you know you only need it for a short period, you can subscribe month-to-month for $29.99.
Alternatively, an Adobe Creative Cloud subscription costs $49.99/month for access to virtually every Adobe program plus online services. Adobe Creative Cloud now includes Acrobat XI Pro.
The license permits Acrobat XI Pro to be installed twice. It's possible to move the subscription from one computer to another, although the process is not very intuitive. (The program has to be "deauthorized" on the computer going out of service before the license can be used on a new computer.)
There is a very tangible advantage to the subscription: it guarantees continuing access to the latest version of Acrobat. Adobe has twice forced business users to upgrade Acrobat for integration with a new version of Microsoft Office, something that has annoyed everyone who has discovered it. The subscription provides the comfort of knowing that the latest and greatest is always within reach.
Adobe has an FAQ about the Acrobat XI Pro subscription here. It's worth considering when you're upgrading an older version of Acrobat or setting up a new computer.