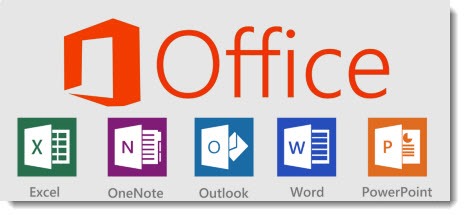 Previously: Office 365 Home Premium: The View From 36,000 Feet
All the attention is focused on the subscription-based licensing of the new Office suite, but at some point you're likely to wonder if anything has changed in the programs themselves that would make you care about the upgrade.
Well, maybe.
If you're a home user or micro-business owner with several PCs, the subscription is priced so cheaply that you have little to lose. Office is a highly polished machine and the new programs have minor improvements throughout. The new version does not have any large changes that impose a learning curve – nothing like the first time you saw the ribbon at the top five years ago.
OFFICE 2007 If you're currently using Office 2007, the upgrade will bring some needed stability. Office 2007 is showing its age and has quirks that I don't see with later versions.
THIRD-PARTY ADD-INS/ADOBE ACROBAT If you rely on Office add-ins from third parties, check to see whether they're compatible before you upgrade. There is one that might affect many businesses: only Adobe Acrobat XI will integrate into Office 2013, with the separate tab on the ribbon and the integrated right-click commands in Outlook to create PDF archives from email folders. Adobe only added support for Office 2013 a couple of weeks ago, with the Acrobat XI 11.0.1 update, and is unlikely to backport it to Acrobat X or earlier versions.
With that in mind, let's look at an arbitrary selection of new features that have caught my eye.
---
Flatter, less intrusive look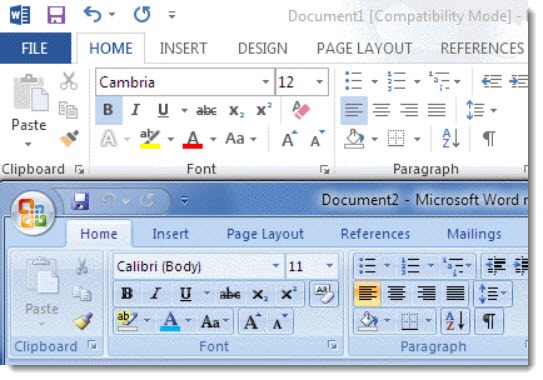 All of the Office programs have been given a more streamlined modern-looking interface. The Office 2013 ribbon is shown on top in the above picture, compared to the Office 2010 ribbon below. In Office 2013, all elements are flattened, all 3D effects have been stripped away, and icons have been simplified. The idea is to remove distractions and let you focus on your work.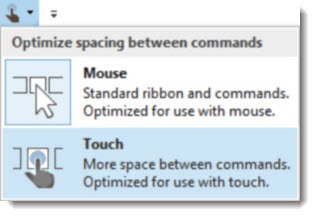 There are several ways to collapse the ribbon or tuck it out of sight to maximize display space for your content. There is also a touch mode that spreads icons apart and makes it easier to hit what you're aiming at on a touchscreen.
---
Skydrive integration for storing files in the cloud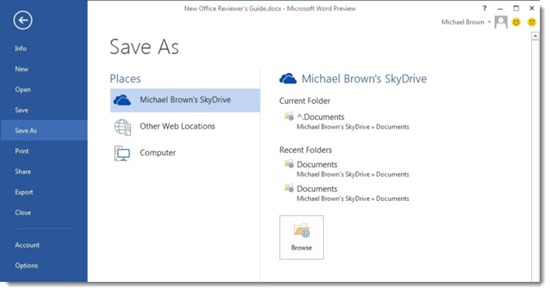 The most dramatic change in Office 2013 is a simple one with profound consequences: files are saved by default to your Skydrive folder, which syncs them online automatically so they are available anywhere.
(New to Skydrive? Here's an explanation.)
Files are stored locally in the Skydrive folder on your computer; syncing them online is done in the background.
Microsoft has worked hard to make Skydrive utterly reliable, so that – like Dropbox – it just works. Skydrive is tied to your Microsoft account. Files in Skydrive can be accessed from any computer by logging in at the Skydrive web site, or by installing the Skydrive app for iPads/iPhones, Android devices, and Windows phones/tablets.
Skydrive's collaboration features have been enhanced with Office 2013. You can share files or folders stored in Skydrive. It's been possible to collaborate with others working simultaneously on the same file with the Office Web Apps running in a browser, but now you'll be notified if someone is working on the same file even if you're working in the local Word program.
It's possible to go back to the old default of saving files to your local computer. The setting is separate for each program – click on File / Options / Save, and check the box Save to Computer by default. But let me gently suggest that you use Skydrive and learn what it can do. It's painless and there are rich rewards.
---
Word 2013
Not an exhaustive list, just a couple of examples.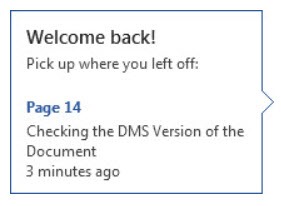 RESUME READING When you open a document in Word 2013 that you saved earlier, a flag on the right side of the screen will offer to take you immediately to where you left off.
Even better, the setting is synced across all your devices for files stored in Skydrive. If you close a document on your desktop computer and open it later with your laptop, you can carry on reading from your most recent location.
PDF TOOLS
The PDF format is now universally used in all offices. A PDF file is not meant to be edited. You should not expect to edit a PDF file.
Having said that, you want to edit PDF files, right? Word 2013 will let you open some PDF files, read them, edit them, then save them as .DOCX or .PDF files. Word does not do OCR to extract the text from a scan, so this won't work on scanned documents unless Acrobat or some other program has done the OCR first.
Word 2013 actually converts the PDF into a .DOCX file in the process of opening it, trying to preserve the original layout as best it can. Microsoft cautions you to keep your expectations low – at best, text will be repositioned, at worst the whole thing will be higgledy-piggledy. Word works with a copy and keeps the original PDF safely on disk so no harm is done.
More to come! In the next article, we'll do an equally hasty pass through a handful of new features in Outlook, Powerpoint, Excel and OneNote.