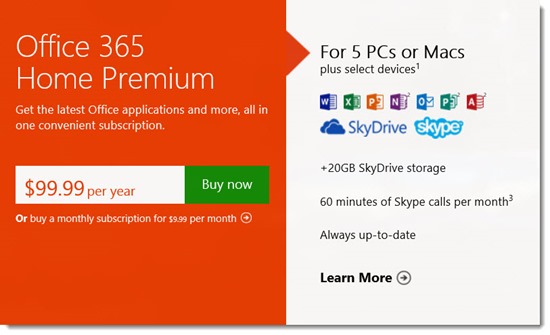 Microsoft Office 2013 is the new version of Microsoft's flagship suite, with the core programs that most businesses use every day – Word, Excel, Outlook, and Powerpoint. It is available now for consumers to install. Many of you should start using it. The new version is easy to install and has some nice improvements in the individual programs.
There is, however, something new that takes some explanation.
Microsoft Office is now a subscription service. You'll pay an annual fee for your Office subscription instead of paying upfront for a permanent license.
In the past, you have purchased licenses for Microsoft Office for somewhere between $200 and $400 each. Some of those licenses could be used on two computers, and there was a cheap Home & Student version that could be installed on three computers. Many businesses got each Office license with a new computer, in which case it was a single-use license that was locked to that computer and could not be transferred.
I'll give you some of the details but let's jump to the conclusion.
Microsoft has made the subscription irresistible. It is a significantly better deal than ever available before for Office. It is so good that it will allow Office to continue to be the dominant productivity software in the new world where people are working as often on mobile devices as they are on computers.
Obsessed with "owning" your software? You can still get a traditional Office license for a few hundred dollars to install on a single PC – non-transferable, non-upgradeable. It would be a foolish, shortsighted decision.
Here's one way to think of it. In an important sense, the traditional license didn't belong to you – it belonged to your computer and all too often could not be moved from that computer.
The Office 365 subscription belongs to you, and you have complete freedom to decide where to use that subscription.
Let's take a quick look at the highlights of the Office announcement this week.
---
Install Office on up to five devices – PCs, Macs, and tablets
The subscription to the new Office suite will be marketed to home users as Office 365 Home Premium. For $99.99/year, you will be able to download and install a version of Office that includes all the important Office programs: Word, Excel, Powerpoint, Outlook, OneNote, Publisher, and Access.
The subscription allows you to install the Office suite on up to five devices. That includes PCs, of course, but for the first time it also includes Macs. At the moment Mac owners can download Office 2011 for Mac but the subscription will include an upgrade to the new Mac version of Office when it's released.
The subscription will also cover installation of Office on iPads and Android tablets when those apps are released, expected in the next few months.
If you have two or three home computers and laptops, one subscription will cover all of them. When you get another computer, you don't have to buy Office again as you would in the past.
At $99.99/year, the subscription is a fair deal for someone with a single PC. If you have more than one PC, or if you think you might get another PC or a tablet in the next year or two, it's a no-brainer.
Worth noting: there is a separate offer for students, Office 365 University. For $79.99, higher-education students can install Office on two computers – not for one year, but for four years. That's $1.67/month, cheap enough that it might stem the tide of students turning to (shudder) Google Docs, especially after Microsoft releases the apps for iPads and Android tablets.
---
But wait! There's more!
There are several more things included with the Office 365 Home Premium subscription.
Microsoft has upgraded Office every three years, pretty reliably. It says it will upgrade the programs more quickly in the future. Office upgrades are free and automatic for subscribers.
The subscription also includes 20Gb of additional space in Skydrive for online storage of your documents and photos, on top of whatever Skydrive storage you already have. First-time users of Skydrive are given 7Gb of storage to start, so you'll have at least 27Gb when you start your Office subscription.
You'll also be given sixty minutes of worldwide calling with Skype. It's a good example of how Microsoft will be pushing attention to Skype and trying to get you to consider using it to call landlines and mobiles.
If you're sitting at a computer that does not have Office installed, Microsoft has developed new technology called "Office on Demand" that installs a temporary copy of the Office programs on the computer remarkably quickly, lets you use them normally, then uninstalls the programs just as quickly when you're done. The speed of the installation is magical for anyone familiar with traditional installations from DVDs or big MSI files.
Finally, you will have full access to Office Web Apps, versions of the core Office programs that run in a browser. You'll be able to sit at any computer, open your files in Word or Excel or Powerpoint in a web browser, and save them back to Skydrive.
---
Office 365 Home Premium is for home users only
This week's announcement is for home users, home businesses, and micro-businesses only. If you are a business with employees, a different set of subscription options will be announced on February 27.
If you are currently an Office 365 hosted email customer, this offer is not for you. More information will be forthcoming about your options.
---
Vista and Windows XP are not supported
Office 2013 cannot be installed on Vista or Windows XP. It's unlikely that there is any technical reason for that restriction. Microsoft has been moving pretty aggressively to convince businesses to drop old Windows XP computers but this is the first overt move aimed at also killing Vista.
In the next article I'll pick out a small number of features to give you an idea of the kind of improvements that have been packed into each program. Most of them are small but all of them are for the better.
Interested in starting a subscription? Make sure you have your Microsoft account in order. You'll be using it consistently from now on. Then visit Office.com and sign up!