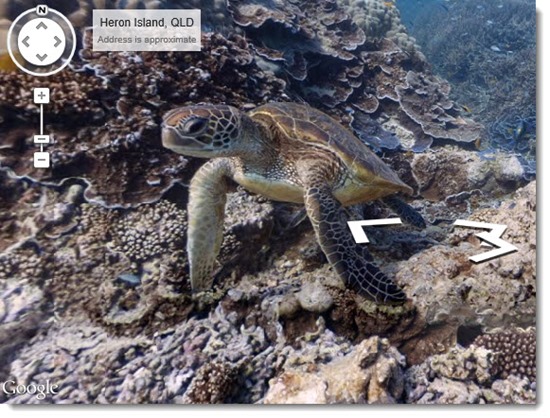 Google Street View is one of the wonders of the world. I know you normally would never use your computer to kill time browsing the Internet but really, you should spend an hour looking around the world to discover what the Google Street View team is doing.
Google Street View is the feature of Google Maps that gives you a street-level 360-degree view driving up and down roads all over the world. When you drag the little man from the upper left on Google Maps, roads that have been photographed turn blue. Drop the man onto one of the roads and the display shifts to the panoramic photos.
When you're in Street View, you can use the left and right arrow keys to swing the camera around in a circle. You can position the cursor with the mouse and click to move up and down the street. Hold the up arrow to move jerkily down the street, just a little slower than you wish it would go. Toggle a full-screen view with the four-headed arrows in the upper right.
Behind the scenes, Google has driven down streets all over the world with its special cars equipped with a Christmas tree of cameras on the roof, shooting pictures in every direction every couple of seconds. Not every street in the world has been photographed but Google gets closer to that goal all the time. In October 2012 Google announced that it had added 250,000 miles of road to the Street View collection.
This is remarkable enough. It transforms the process of planning a vacation. For that matter, it's worth a look any time you have to travel somewhere new and want to get a visual on your destination or check out where to turn in for parking.
That's only the beginning of what Google has been doing with Street View.
Since 2011 Google has been sending its Street View photographers inside businesses – restaurants, company headquarters, stores, museums, and far more. Coverage is hit or miss but expect to find shops and restaurants where Street View keeps going inside the front door. Random examples: walk through the Rackspace offices, a comic book store, and a Google data center. The photo below is a closeup from one corner of the Street View tour of the data center, a nice Google-style joke.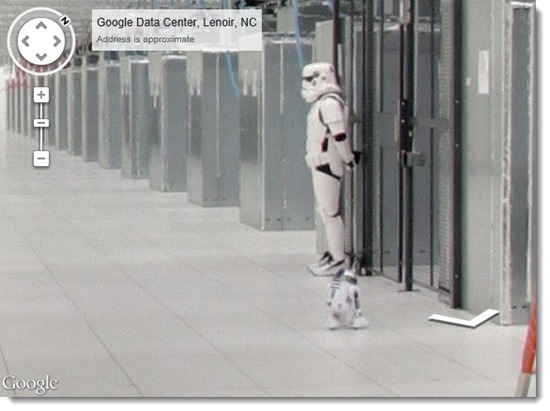 But wait! That's not all!
Google has a gallery to showcase its ever-increasing collection of special locations where it has sent Street View cameras.
In one of the most ambitious collections, a Google team strapped a stalk of cameras onto a backpack and photographed more than 75 miles of trails in the Grand Canyon. There are also locations in Yosemite, the Amazon, Antarctica, and the Swiss Alps.
The World Wonders project lets you walk through Pompeii, Stonehenge, Versailles, and many more.
There is a remarkable collection of ocean sites, including underwater photos from the Great Barrier Reef, Hanauma Bay in Hawaii, and others.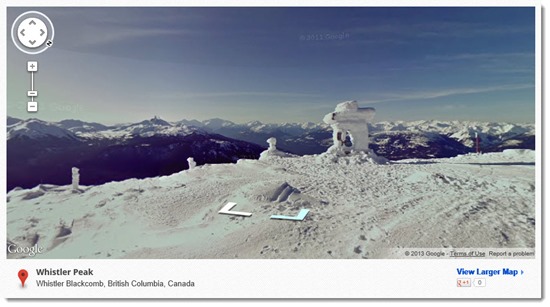 One of my favorites was the discovery that Google has begun photographing trails at ski resorts all over the world. The gallery highlights Whistler, Squaw Valley, and Breckinridge, but as with the other categories, the gallery is only a sampling – Google has actually added ski run photos at more than 90 worldwide ski resorts and is adding more all the time.
It goes on and on. Street View now extends to university campuses, amusement parks, museums, and much more. Begin to check Street View whenever any project would be helped by a visual look at a destination, inside or out, just in case.
Google is doing something audacious – stitching together a visual representation of the entire world, in close detail, inside and out, one photo at a time. It is slowly breaking down national barriers, most recently when it added detailed street maps of North Korea's capital with the help of citizens sending data out of a very, very closed society. Street View has become an indispensable resource and is getting deeper and richer at an extraordinary clip. Spend a few minutes looking around the world!
[Addendum – March 18, 2013 3:30pm: Wired Magazine reports that Google released Street View images this week from four of the highest seven mountains in the world, including Mount Kilimanjaro and Mount Everest South Base Camp. Amazing!]