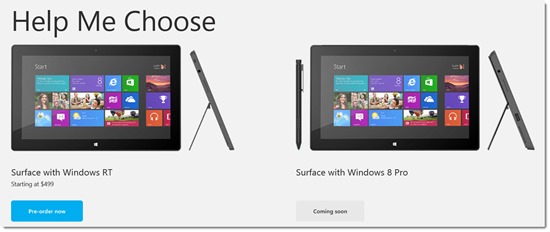 Let's not mince words: very few people have purchased Microsoft's Surface tablets. It's still early in the long game that Microsoft is playing but the world is not exactly being changed overnight.
Microsoft is trying to position the Surface devices more clearly in the market.
The original Surface RT ($499 and up) is the one that runs Windows RT, a rewritten version of Windows for ARM processors that can't run any traditional Windows programs. It is thinner, lighter, and the battery lasts all day, so it's being positioned as a tablet (that can be used to do real work).
The new Surface Pro ($899 and up) runs the full version of Windows 8, with full compatibility with every Windows program. It's heavier and thicker than a Surface RT tablet and the battery only lasts five hours. It's being positioned as a notebook (that also can be used without a keyboard as a tablet).
Almost no one is buying Surface RT tablets. It's possible to buy an iPad for almost the same price and take advantage of the insanely rich world of iPad apps.
Yet I'm quite attached to my Surface RT. I can access all of my client files in Skydrive and edit them in full versions of Word and Excel. My OneNote notebooks are accessible both in a desktop program and in a full-screen Metro app with an interesting radial menu that provides intuitive touch access to many OneNote commands. It's become my preferred device for reading Kindle books and RSS feeds, so I carry it with me pretty well constantly.
Relatively few major apps have been added to the Windows RT store in the last month but there are welcome updates to some of the ones that are there already.
A few days ago, Amazon updated the Kindle app for Windows RT, a long overdue update that adds a 2-column view that works far better for reading in landscape mode (the natural way to hold the Surface), as well as fixing a bug in page-turning that occasionally caused long delays.
The Next Issue app is now available for Windows 8 and Windows RT. Several magazine publishers have joined together in an interesting experiment to preserve magazines by making digital editions of many of them available for a single monthly subscription price. The basic subscription ($9.99/month) gives access to almost 80 magazines, including Esquire, Food & Wine, GQ, Money, and Wired. The premium subscription ($14.99/month) adds a handful more, including Time, Entertainment Weekly, People, and Sports Illustrated. (The New Yorker will be added soon.)
There's more information about Next Issue at the web site. The subscription can also be used on iPads, and a more limited selection of magazines is available on Android tablets.
Mary Jo Foley reports tonight that Surface RT tablets may get updates this month for the mail and calendar apps, which are pretty weak, and perhaps even an update for the hopeless XBox Music app.
A Surface RT tablet or Surface Pro notebook is not for everyone. A thin and light Ultrabook is more flexible and has fewer compromises for business people who need to get serious work done. Still, if you're considering a tablet, don't reach too quickly for an iPad. I have a high regard for iPads but the Surface RT tablet has a lot to offer people in the Microsoft ecosystem.