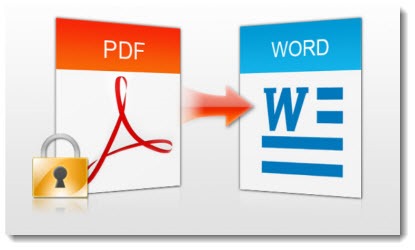 A new feature in Office 2013 that deserves explanation: Word 2013 can convert PDF files into editable Word documents with a high degree of accuracy.
If you browse to a PDF file in Word 2013 and click to open it, you will see this window: "Word will now convert your PDF to an editable Word document. This may take a while, The resulting Word document will be optimized to allow you to edit the text, so it might not look exactly like the original PDF, especially if the original file contained lots of graphics."

Word will convert the PDF to a Word document and open it for reading or editing, exactly like any other Word document. You can then save it as a Word document, or convert it back to a PDF using Word. (All the Office programs can save files in PDF format.)
In the past offices have needed Adobe Acrobat or another third-party program to unlock PDFs. Word 2013 allows any PDF to be opened with no fuss and no extra cost. Serious offices will still need Adobe Acrobat, which can do a wide variety of things that go far beyond simple conversion to Word format. For lightweight use, though, this may be a very helpful tool for offices that could only display PDFs in Adobe Reader until now.
Word uses a new feature, "PDF Reflow," to convert the PDF content and preserve the original layout. A list in the PDF turns into a list in Word – hit Enter at the end of a bulleted line and the next line will create a new bullet. Tables turn into tables. The document flows across pages.
There is some great magic going on behind the scenes, because the original PDF typically does not have any information about lists or tables, just references to the positions of things in relation to each other. This blog entry from the Word team has more information about how Word does deep analysis of the data in PDFs to decide how it will be best represented in Word.
Note the limitations on this conversion.
  –  It doesn't work on scanned documents. Word is not doing OCR on the page; it's interpreting the layout of PDFs that were originally created in some way that preserves the text in the file, like conversion from a web page or Office document.
  –  The other Office programs can't open PDF files like this. If you get a PDF of a spreadsheet, Excel won't import it. This is only a Word feature.
  — It works best on files that are mostly text. Documents that are mostly images and diagrams – presentations or brochures, say – aren't going to convert very well.
With that in mind, this is a great new tool.
Office 2013 is available now to anyone with Windows 7 and 8. Home users can subscribe to Office 365 Home Premium; office users can subscribe through Office 365. Click here for instructions about how to buy Office 2013.
Many of my Office 365 clients are being upgraded to a new version of Office 365, with improved webmail and a cleaner looking portal. After the upgrade, you can get Office 2013. Let me know if you want to try the new version!