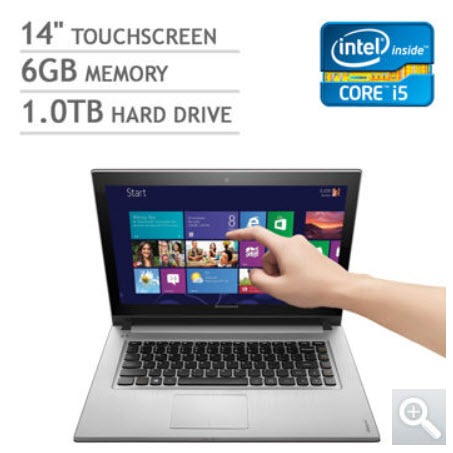 There is finally a strong selection of Windows 8 laptops on the market, but they are mixed with the aging inventory of models that do not take advantage of the improvements in laptop design – lighter weight, thinner profiles, faster hard drives, and touchscreens. Here's a quick survey to help you shop.
In general, keep three things in mind:
—  Ultrabook. It's a marketing term that has been stretched to cover quite a variety of machines. Still, it's a reasonably reliable shorthand for the latest generation of processors in a thin and light form factor.
—  Windows 8. Don't be afraid. You can be oriented and productive in Windows 8 in a very short time. This article covers all the basics. You'll get the benefits of improved power management, faster start-up, a better File Explorer, and a myriad of other enhancements throughout.
—  Touchscreen. Now that touchscreens are becoming more available, think of them as a requirement. If you're using your laptop for work, you might continue to use a mouse and keyboard as your primary tools, but you'll use the touchscreen right away for at least a few things, and it makes it far easier to navigate in Windows 8 in the Start screen and the new full-screen apps. At the moment it might still seem exotic but touchscreens are on their way to becoming standard.
Laptops with 14" screens are the most popular choice. The screen is big enough to be readable and the keyboard is full-size, without adding much weight or thickness compared to 13" models. The step to a 15" screen generally adds quite a bit of bulk, as if the manufacturers just stop caring at that point.
Less expensive laptops will come with a conventional hard drive – lots of storage space but spinning relatively slowly compared to solid-state drives. If you see a 5400RPM hard drive, the drive will slow performance even if the other specs are acceptable. Look for the upgrade to a 128Gb or 256Gb solid state hard drive (SSD), or one of the hybrid arrangements used by Dell and others where a conventional hard drive is matched with a 32Gb SSD that's used as a cache to speed things up.
Almost all the notebooks meet the other minimum specs that make for a satisfying notebook: an Intel Core i5 processor (a Core i3 is not bad but a little slow, and most people don't need the speed of a Core i7); 4Gb of RAM or more; really, everything else is standard. A DVD drive probably won't be included, and you won't miss it.
I'll call out a few nice notebooks, in case you want some help narrowing down the choices. This is a fairly arbitrary list, so feel free to get anything that appeals to you.
—  Lenovo Thinkpad X1 Carbon Touch: at $1,499, the most expensive of the bunch, but practically perfect. The Thinkpad line includes the pointing stick in the middle of the keyboard to use as an alternative to the touchpad, which is a sufficient reason in itself for some people to buy one.
—  Lenovo Thinkpad T431S: a new Thinkpad that is scheduled to be on the market in April. It has almost all the appeal of the Thinkpad X1 Carbon for several hundred dollars less, starting under a thousand dollars. Unfortunately Lenovo won't be releasing a model with a touchscreen right away, although reportedly there is a touchscreen version in development.
—  Dell's Home Division offers the Inspiron 14R, starting at $650 for a model equipped with a touchscreen. It's not particularly slim or light compared to the more expensive beauties but it looks quite nice for the price. (Upgrade to the next model up for $729 to get a better processor and more memory.)
—  Lenovo offers the IdeaPad Z400 Touch in the same price range, $649 for the model with a Core i5 processor. I'd give it a long look if you're shopping on a budget. As of April 1, Costco has a nice IdeaPad Z400 Touch on sale for $599.
—  Meanwhile Dell's Small Business Division will put a touchscreen on the Inspiron 15Z for $899, if you simply must have a bigger screen.
  —  Samsung's Series 9 laptops have the same premium feel as the Thinkpad X1 Carbon (and a similar premium price tag) but unfortunately there is not yet a Series 9 with a touchscreen. There are, however, some touchscreen-enabled 13.3" laptops in the Samsung Series 5 lineup, running $800-900.
— Finally, don't overlook the Microsoft Surface Pro, a laptop with a detachable keyboard that lets it also be used as a tablet. It has a 10.6" screen, far smaller than a laptop, but it runs the full version of Windows 8 with style in a package that weighs just under two pounds. Reviews are mixed in the tech press but feedback from users on Amazon, Best Buy and other retailers has been quite positive. I've talked to very happy users who appreciate the advantages of being able to do real work with such a small and light device. Make sure you get the 128Gb version for $999 (the 64Gb SSD is too small), and most people prefer the Type Cover to the Touch Cover.
Bear in mind that you'll need a subscription to install Microsoft Office 2013 on the new laptop. There are instructions in this article about how to get that subscription started.
Happy shopping!