Sometimes it seems as if we're making progress against spam. Spam filters have improved and we don't bother to check the Junk Mail folder any more because we know it's all junk. Oh, sure, some crud gets through to the Inbox from the bad guys but on the whole complaints about spam have dropped way down.
But anyone with a blog knows that blog spam is flourishing.
A bit of background, then I'll tell you why I'm so proud of Bruceb News.
WordPress is the dominant platform for websites with blogs, running more than 60 million websites worldwide. Here's some information about WordPress if you're not familiar with it.
It's common for blog articles to have a place for comments. There are many WordPress plugins to create those comment sections, which typically request a name, email address, and web site to go along with the comment.
Almost all blog comments are moderated, which means the comments don't appear until they are approved by a moderator, usually the owner of the site.
Why the moderation? Hordes of spammers and bad guys have developed automated software that sweeps the web searching for WordPress comment forms that can be filled in automatically. Every blog – trust me, every blog – gets comment spam. Here's a nice explanation of comment spam.
The point of the spam has nothing to do with the comment itself. The spammers hope to create links back to their own websites, which might be trying to sell something or might be hosting malware. They don't want the comment to be seen by people; they want the link to be seen by search engines.
That's why most bloggers install a spam filter. Akismet is the most commonly used spam filter on WordPress web sites – created by the people who wrote WordPress and installed by default on WordPress.com sites. I've had Akismet running on Bruceb News since it was moved to WordPress in 2009.
And that's why I'm so proud of my humble news page today. Here's a shot of the WordPress dashboard tonight.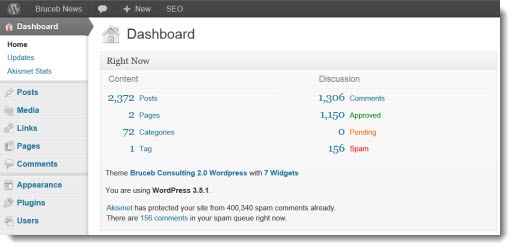 The cool part is at the bottom. Here's a larger version.

"Akismet has protected your site from 400,340 spam comments already."
Four hundred thousand spam comments, baby! Thassa lotta spam! I was a few hundred short last night but bless the hearts of the bad guys, they put me over the top in no time.
Fortunately, only a handful of spam comments make it through the filter, 2-3 per day, easy enough for me to deal with manually.
It's always fun to look through the spam comments to see what the bad guys think will get through the filter.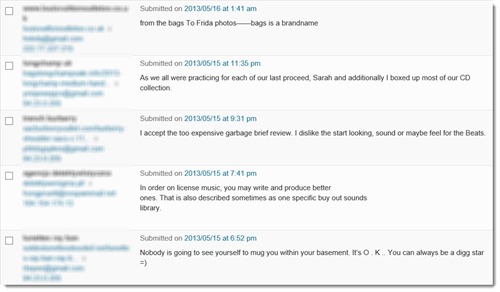 "As we all were practicing for each of our last proceed, Sarah and additionally I boxed up most of our CD collection." "Go via these elder items and look for the that tickle your fancy." "I cherished as much as you'll receive carried out proper here." It's kind of like poetry, isn't it?
My Gmail account is only accumulating spam at the rate of 20-25 new spam messages per day, less than a thousand new messages since the beginning of April. Hah! The WordPress spammers could teach those guys a trick or two.
Helps put your Junk Mail folder into perspective, doesn't it?